There are many challenges in the field of sales for every business organization and company, they need to start striving and must work hard from grabbing the leads, converting them, and creating a strong bond with them to maintain a long-term business relationship. There are many challenges faced by business organizations and companies, these challenges mainly include the process of finding the leads, engaging them, identifying the best and appropriate leads, eventually converting these leads to permanent long-term customers and prospects. Due to the pandemic situation, COVID-19, the challenges for the sales team took to a whole new level making things more difficult for every business organization.
In most cases, many business organizations have come to a situation where they had to completely shut down their business or at the utmost need they had to adapt to an environment that supports their business to run remotely. Therefore, having a strong and the best sales strategy during such times is a must for every business organization. There are mainly five main points to focus on while running your business remotely during such a crisis. With SalesBabu CRM software you can run your business well even during such a pandemic situation.
Read our blog – How To Master Sales Strategy In 2021 Using SalesBabu CRM Software
Identifying and addressing the problem
In the current pandemic situation, every person will be feeling low and might have been going through a lot of problems financially or in many other ways. When your sales team has contacted your leads during such a situation, you cannot just act normal as if everything is completely fine, nothing can be worse than that. You need to understand the situation your leads are in and then take a step ahead. For this, you will need to empathize with them and see if they are in a good situation. Once you have confirmed that they are doing fine and things are good, then you can start discussing your brand and products with them. During such times of a crisis, you need to be very cautious, think twice before you start discussing your brand and products.
The main reason for your sales team to contact the leads and customers must be to create stronger bonds and make sure to gain their trust, they must be comfortable to contact you the next time. When you are trying to discuss a particular topic, you need to find out if your customers or leads are comfortable with talking about the topic, if they are not fine with the topic then you need to drop the topic there and converse on other trends that they are comfortable with. Therefore, you need to treat your customers and leads well to make sure they are comfortable and fine with the situation and topic, this will help you build stronger and long-term business relationships.
Change the way you message
Since the pandemic has hit, many things have changed and it has a huge impact on almost everything. During such times, the way you run a business has also changed, the way you send messages, have conversations with your leads, customers, and prospects, everything has changed, and currently, the standard messaging techniques fail. Therefore, to adapt to the changes that are happening around the world, you will have to change the ways you message your clients and leads. You need to start adopting new ideas and technologies to run your business well even during such a crisis. You need to start thinking from the prospect's point of view and understand their situation and sell solutions of their choice and need in the present time.
You need to convince your customers, leads, and prospects about your brand and products keeping in mind the current crisis. You need to show them how your product can be helpful per the current situation and how it will be beneficial to them during these times. You need to keep the conversation and messages comfortable and in such a way that it is suitable for the current pandemic situation. Therefore, you need to understand the requirements of your customer and prospects, make a note of them and then plan on what points you need to have the conversation with them. Hence, adopt the changes in a good way, and with SalesBabu CRM software you will be able to provide the best positive experience to your customers and prospects.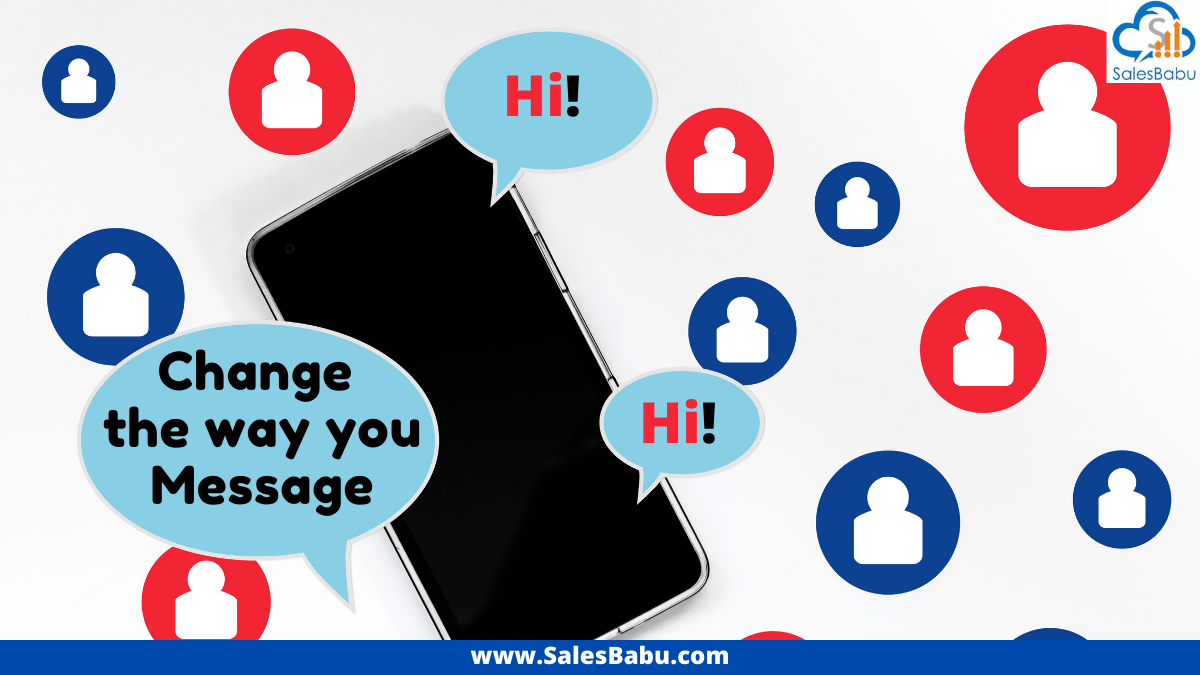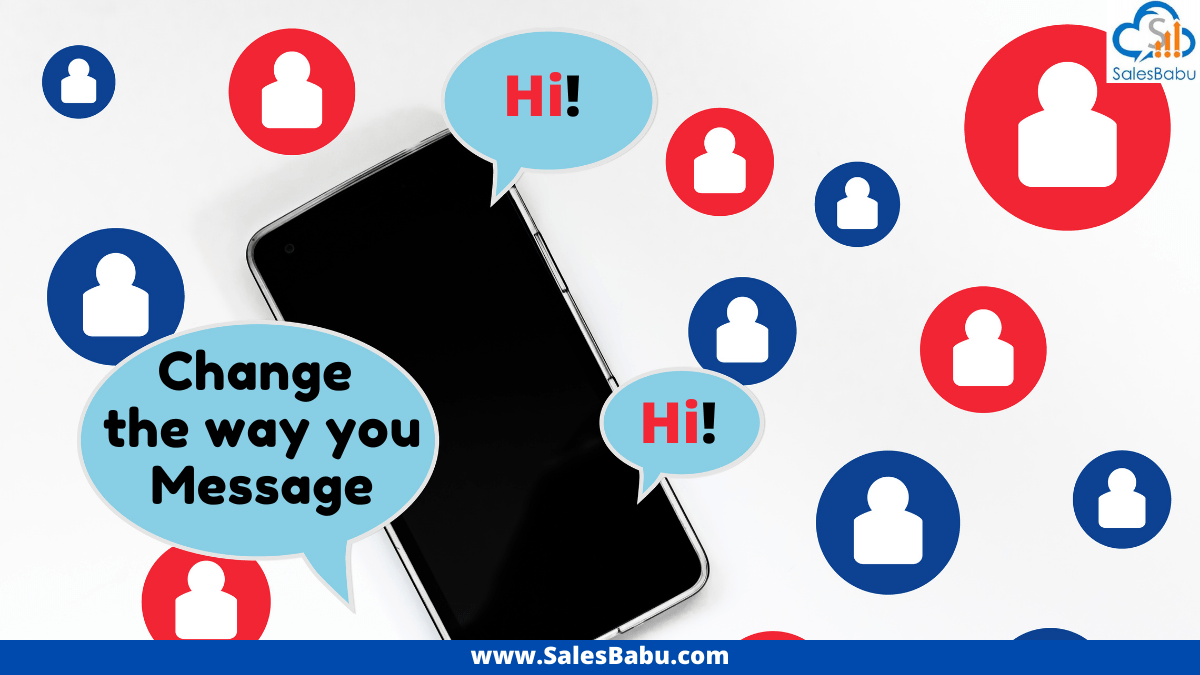 Read our blog – Sell Solutions, Not Problems – SalesBabu Tips


Need to be optimistic
Being optimistic is very important for any sales team, in a survey it is found that optimistic people are 20-40% more successful in their fields. For any business sales to increase and be successful, being optimistic is very important. During this pandemic, it is very much required to stay optimistic and hope everything to be fine in a positive way, for that you will have to follow certain strategies that will work for you to stay positive in reality. You need to remember the key points from your best case examples that would boost your confidence and help you stay optimistic.
You must make an effort to learn from the past positive experiences and note the key points of it so that they will be helpful for the current situation. You have to be aware of one thing, that is, you can have control over a few things and at times you cannot have control over another few things. To simply explain, you can have control over the number of calls you can make per day but you cannot have control over the responses that you get from your customers or leads. You must be very positive towards such situations. For this, you need to tackle the situations accordingly, face the challenges, and always must make sure to remain optimistic.
Read our blog – How to Meet Sales Targets Every Quarter
Focus on protecting business relationships
When you need to have a conversation with any lead or a customer, do not conduct it as a formal meeting. Instead, keep the conversation very comfortable so that it should lead to another conversation in the future. For this to happen, you will have to understand your customer and prospects by researching deeply on their previous records and making points for the conversation based on them.
Every business organization should have a sales team that is very supportive and provides comfort to their customers and prospects. Every business must be customer-centric, only then the business can run well even during a crisis. It is the responsibility of the sales team to build strong business relationships with customers and prospects. Hence, use the best strategies that are suitable for your business and clients so that you can build and maintain strong business relationships.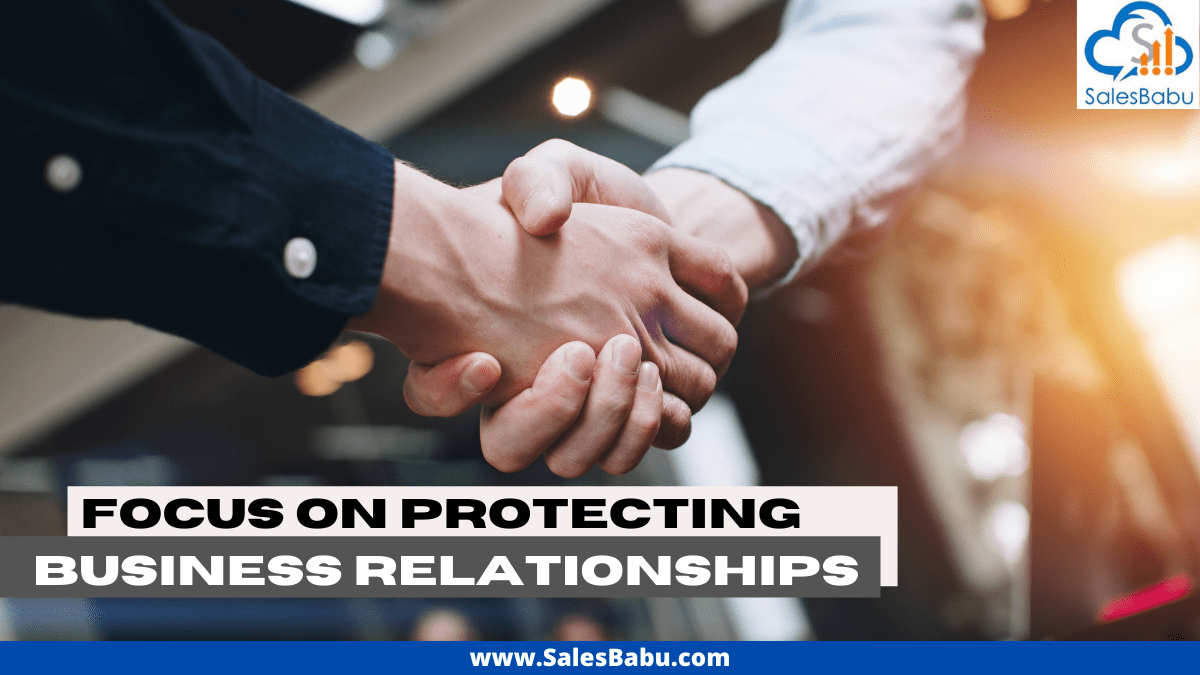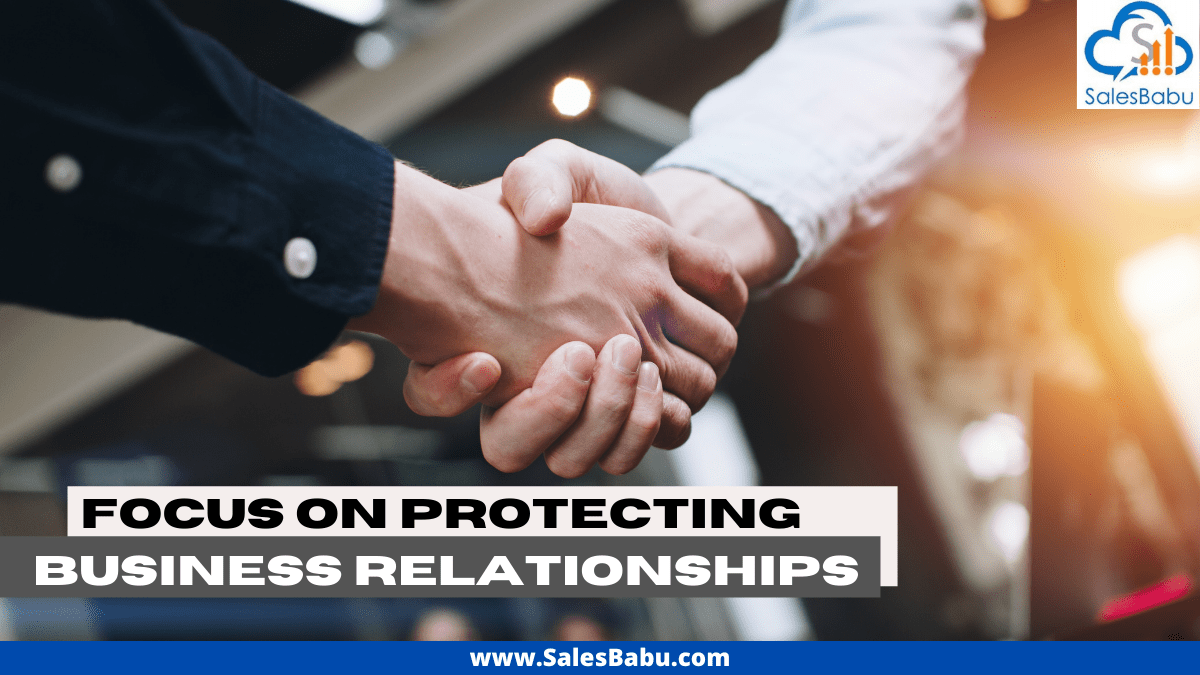 Read our blog – CRM And Customer Experience: How Online CRM Helps In Providing Better Customer Relationships


Build an action plan and strategy
Since we have come through the crisis so far, you being a part of a business organization and sales team, you must mainly focus on how you can help, comfort, support, and plan your future business relationship with your customers and prospects. When the markets restore, your customers and prospects must think of your brands and products first, and they must suggest your products to their friends and families. For that to happen, you must be able to develop a strong bond and business relationship with your customers and prospects by comforting and supporting them during the crisis. This can be done even better by delivering them exclusive collaterals and informing them about any services and products that are of their choice and interest. You can invite them to webinars and hand out white papers, case studies, etc. With the help of SalesBabu CRM software, you will be able to handle your customers and prospects to build a strong business bond with them.
Manage Connections
A business opting to sell remotely, such chances are less likely to happen that one could bump into their network as you go through your daily life. It is best to understand rubbing shoulders with your peers and potential prospects online.

Such as joining relevant groups or channels and starting to post rather more and connecting with posts on other social media platforms. Supervising the time is pivotal, therefore a tool like calendars are introduced. Directing your energy is much more necessary. Aling the day and the workflow operation in a way that takes the most benefit of the energy you have.
Rather than forcing the staff to stay at their desk for a certain number of hours during the day, make a schedule to allow them to go for a quick walk to boost your energy. Target on techniques that processes for your business to deliver the most of the energy you and team members have at different times of the day. Better to knuckle down and leverage the staff members to deliver the work is one way of doing things, but to keep consistency while being productive and form a suitable work schedule, energy management is the main pavement.
Conclusion
Due to the COVID-19 pandemic situation, there were drastic changes in many things worldwide. It brought in many challenges and unpredictable situations. You need to adopt various new strategies and plans for the business to run well and gain profits even during the current situation. Analyzing and adapting the above-mentioned hacks into your business will be very beneficial for you to run your business well. With SalesBabu CRM software, you will be able to achieve many business goals and master remote selling.