"Foundation of your company always tends to your customer satisfaction"
There is no doubt in that the quality of the customer care you provides; matters to your customers. A  second way to Increase revenue is –  through after-sales service, product warranties & repairs.
Rapid globalization and emergence of new markets has brought a great surge in Service Industry. Most of the industries that manufacture or sell products bearing after-sales -service and warranty as a mandatory requirement of customer service management tier which play a crucial role in the growth of company.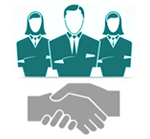 Major Challenges in Service Industry :
How to manage customer escalations & complain?
How to manage Service Level Agreement (SLA)?
Can we count the after sales support & service Earnings and expenditures?
How to do prior scheduling for service Engineer's work (Installations, product services)?
How to manage all Account at one place?
Is it possible to define Preventive Maintenance Services automatically?
Benefits of CRM in Service Industry
Organization can deliver robust service to customers with the help of real time & centric database; which can be operated from single point.
Automated Support  Scheduler
CRM enable organization to get automate intimations about their job such as installation, warranty expires and PMS visits; so, that you never miss any opportunity to improve their SLA.
Maximizes Engineer's Productivity
CRM enables service managers to view status of all the service activities, in terms of PMS, and after sales support. It also helps you to increase Support Engineer's Productivity. One can manage long term customer relations by giving them good customer service.
Increase Customer Satisfaction
CRM helps you to enhance customer satisfaction, and to gather feedback from customers, analyzing and evaluating the responses to create customer satisfaction initiatives. Increased customer loyalty; result increase revenue in terms of your Services.
Benefits of SalesBabu Service CRM in Service Industry
Customer satisfaction identifies the standard and quality of your services & company relationship with its customers. SalesBabu CRM helps you to track this intangible information, makes customer needs predictable and improve the customer relationship. It also increases the quality and number of Clients in your Service Bucket.
SLA is an important part for every organization; which shows the company credibility, reliability in their business pool.CRM helps you to track your Service Level @ customer point of view; where you can easily track, and meet your defined service level agreements and win the customer faith.
Tracking and Manage your Clients
CRM enable you to track your customer's requirement and issues. This will helps you to maintain a complete history of customer related interaction and their satisfaction level in to your product.
Control the Turn Around Time (TAT) of your service and service Engineers
CRM enable you to define your TAT on the basis of your services, which can increase your Level of service and productivity of your service & support engineer. CRM tends to resolves the customer's issues in short period of time. It takes your customer services to different levels and helps you to give quality services & even you will be able to maintain consistency of the services.
CRM enable you to manage your customers at centric point, and whatever and whenever you required, you can easily retrieve and check all the certain activities which have been actually done with this customer. Customers are always a prior necessity for any organization. SaleBabu CRM Service On Demand allows you to maintain all the details of your existing customer on one single platform and make a fruitful Database for your Organization.
Although there are bunches of Service CRM in the market catering the Service industry, and many companies are using service CRM; but, a question is frequently rise , are you able to check whether your customer is satisfied with your services or not? If yes – so keep your eye on your funnel to check how much you retain in a year, and if NO; then start planning to become a CRM Enabled Company.  Request a Free Demo