In today's digital world, customers expect a seamless experience on every communication channels. To fit-in this competitive environment, your organization must provide customers with every latest communication options such as instant messaging, phone and email services, and other social media platforms. With these third party integration facilities on various communication channels, your staff has detailed customer information to enable them to respond to customers queries efficiently.
A research from Aberdeen Group, shows that every year, on an average company loses about 25 percent of its customers mostly due to poor customer service. However, with efficient CRM phone system integration, businesses can retain around 89 percent of their customers.
In today's article we would be understanding more on how a CRM and cloud telephony integration for your business can improve your revenue.
What is Cloud Telephony?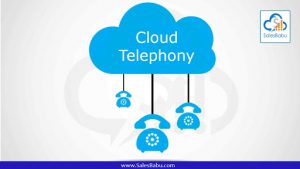 Cloud Telephony is the latest development in the field of Cloud Computing, that provides innovative solutions to firms that do not want to invest in conventional business telephone services. Cloud Telephony allows customers to make and receive calls & SMS without any additional infrastructure.
Any business using these Cloud telephone services need not install any software or buy any hardware to get the services started. The Cloud Telephone service includes an IVR, call center setup, call recording and more. These services can be used via a traditional phone, mobile or a computer setup.
Benefits of cloud telephony solutions
In Small business:
It's easy to line up – A monthly subscription lets the small businesses access the call center level features to make sure that they have better efficiency and customer experience.
It is Zero Capex
Call recording and analytics – The manager and also the owner of the small business get access to advanced analytics to boost workforce planning. They are going to monitor their agents in real-time from anywhere.
Easy to scale – Start with 1-2 leads and increase or decrease the leads based on the need of the business.
In Enterprises :
CRM cloud telephony is easily integrated with the web-based CRM and ticketing solutions.
Easy to upgrade – A call center solution is inflexibly complex to upgrade, but cloud solution up-gradation is taken care of by the service provider.
Reporting and Analytics – Full feature solution providers give the important points of call analytics and reports, which helps in business decisions.
Distributed call center – Businesses can manage all the distributed call centers across multiple places from the centralized location.
CRM and Cloud Telephony Integration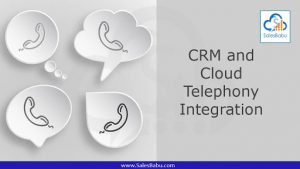 CRM(Customer Relationship Management) software provides an end-to-end support to enhance your company's relationships with potential and existing customers by providing efficient customer experience. To achieve these goals, CRM softwares integrate with cloud Telephone solutions(Cloud Telephony Integration) from reputable vendors to enable them to address customer problems effectively and improve customer relationship management services.
Components of Cloud telephony integration :
Phone number that will be published:
It will be either a toll-free number, toll number, or mobile number.
Virtual numbers are going to be forwarded to the calls to the PRI line within the data center.
Services with a variety of PRI lines :
Cloud servers will be able to report the IVR, call recordings, API, and various other features.
Calls made to publish the numbers are going to be forwarded to PRI lines.
It would be posted on the reliable data center having redundant connectivity and amazing infrastructure.
Landing numbers or extensions :
Landing numbers are commonly spoken as agent numbers, these are the numbers where the particular call comes.
These numbers will be either mobile numbers or landline extension numbers.
These are the elements that should be a must when we talk about Cloud telephony and its integration within the customer call center specific business process.
Why is cloud Telephony Integration important?
Cloud Telephony Integration is an integrated solution to track the customer life cycle – Lead Management via marketing campaign(Missed Call, SMS Service) to customer retention (Call Center Solution, Live Chat) and more. This functionality is important because it integrates every data of a specific lead or contact at the moment of a conversation, regardless of the communication source. The retrieval of such information for such contact enriches the customer communication experience and improve our overall sales conversion rate.

Advantages of CRM Telephone System Integration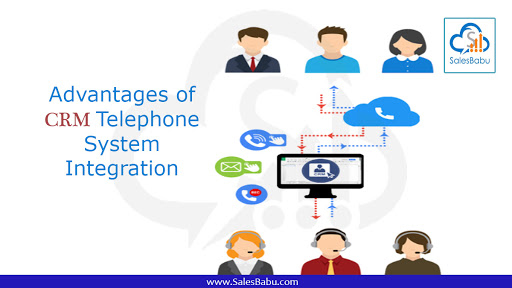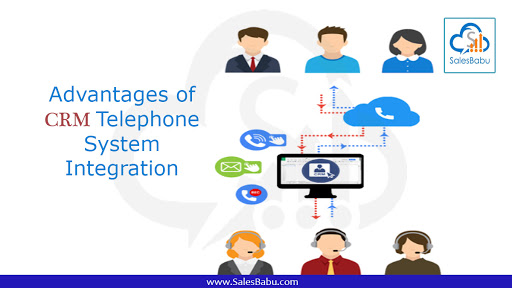 With a rapid increase in mobile internet traffic from a mere 0.7% in 2009 to a whopping 52.99% in 2017. There is an important need of having a CRM software which supports cloud Telephonic integrate to have a stronger grip on your incoming calls and can in-turn serve customers better and more productively. Let's understand the advantages of using a cloud based CRM integration system.
Data is invaluable to every business. Every detail related to a call like a customer information and other call data from each incoming or outgoing telephone call will be collected and stored in your centralised database system. Apart from tracking calls more easily, integrating your phone solution into your CRM also means access to more customer data. From your phone service providers, you can track all your call log history, your phone number data including which one is getting the most calls, and who is the person assigned for each phone number or extension. CRM on the other hand, gives you information on your customer basic information, existing accounts, customer leads, and sales opportunities.
Combined both, gives you a quantifiable data that you can use to improve customer experience. This data includes talent and skill evaluation information like average sales call duration, upselling activities, and overall conversion rates.
Contact data management gives you an upper hand in managing your prospective leads, suggesting them relevant details over the phone calls, understanding their background and personal preferences and more. With every small to important data in hand, sales and service agents can provide many proactive solutions to customers and help them to continue doing business with our firm.
Manual Call Management Systems are poorly impacting firms that rely on manual ways to enhance customer satisfaction and generate business leads. Automation is the key to a successful customer experience in today's world of Interactive Voice Response Systems. IVR facilitates computers to interact with humans through voice/ DTMF tones. Agents can schedule automated calls according to customer's preferences instead of repetitively tracking customers personally. Service agents can also access full detail about the customer on the call and provide a more personalized experience.
Cloud telephony is the exact need of the hour to improve your business in the 21st century. It is all in one driving force behind delivering value to your customers and reducing your overall business cost. With these cloud based telephone integrations, agents can make and receive calls from any device. Through virtual phone numbers and various mobile services, agents can access all customer data on the cloud database, check voicemails, view caller details etc from wherever and anytime of the day. With new ventures and startups with offices in multiple locations, these cloud telephony services allow employees to make and receive calls no matter which office they are in.
Moreover, all incoming and outgoing calls can then be routed to the device of your preference. In such a way you can offer full quality customer support without needing a desk or a telephone to do so. Also, Cloud telephony CRM integration will give "click-to-call" functionality where employees have the ability to dial from any website by simply clicking on the number. The cloud telephone system will then automatically pull up a notepad, log the call, and file the data at the end of the call. These automated facilities removes a lot of overheads of typing phone nos. , taking notes and other manual ways of customer service management.

3. Increased Efficiency
One of the main reason for integrating your telephone solution into online CRM systems is to improve staff efficiency. By integrating communication components into our cloud CRM softwares, employees would no longer have to shift from the CRM app to the phone app to make or receive calls.
In addition, we can configure automatically pops up whenever single click functionality enables to view customer data and call them for further interactions without jiggling with various applications on your system. This saves a lot of employee's time and effort to search for the customer's profile before initiating a customer communication.
Also, these auto dial facilities will significantly reduces misdial instances by removing the human element in the process.
You can also use call conferencing to track individual agents' contribution and train your agents by using the recorded calls of domain experts. These call record functionalities enables managers and other senior staff to address any escalated customer's concern. Also, through these call-recordings and live call monitoring managers can give personalized feedback for agents to strengthen their assisting skills and improve in overall customer satisfaction rate.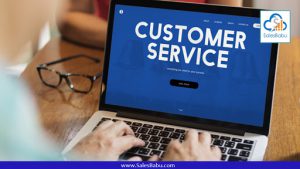 Reaching each customer one-on-one, through personalized greetings, call management support, detailed understanding of their preferences and so on, you can definitely boost up your high quality customer service. It not only helps in getting more leads for your business but also gives your existing customers a higher level of trust in your services and increases the likelihood of positive word of mouth for potential customers. These testimonials from happy customers can act as very effective marketing strategies for showcasing your services to prospective clients, thereby improving your business opportunities.
Automated telephony services saves a lot of time and efforts for an employee to search and open the customer's profile, which also allows more time to provide improved customer service.
With cloud based telephony integration in your CRM software, you can have an omnichannel support for your customers, providing customer support over social media, email, chat, and telephone services . Also, with this integration system, your firm can achieve the seamless flow of information where all communications from the customer can be accessed through one account and provide more customer centric experience.
Cloud telephony integration provides you detailed information about every telephone call and SMS sent and received from every customer. It also automatically generates a cloud based call database which once integrated with CRM systems, provides complete information about call volumes, call time, cost/call, missed calls, solving rates and more.
Data Analysis reports in CRM use these call information to provide analysis on the difference between where they are and where they want to be. This helps them identify how much they have to improve in each area and provide futuristic solutions and business proposal for improving the company's profit margin.
Moreover, through employee internal data, they can categorise and monitor each agent's performance by tracking an agent's number of calls, average call length, if the problem of the customer was solved or not etc. and provide the required training and constructive feedbacks. These employee tracking system help them to provide more value-added work for your business and work on closing better deals.
Conclusion
Cloud telephony allows you think from the perspective of your customer and treat each call like it were the only one and give them best customer services possible to improve your business deal and boost your business proposals.