The trade system is prospering drastically and the supply chain are now a web of interconnected partners.
So, What is Supply Chain Management?
Supply chain management is the management of the flow of goods and services that includes the process from transformation of raw materials to finished products. The supply chains cover everything from production to product development and information system needed to direct the undertakings.
Benefits of Supply Chain Management
The Supply Chain Management produces benefits such as –
New efficiencies
Higher profits
Lower costs
Increased collaboration
Manage better demand
Manage inventory
Meet customer demand on time
Why is supply chain management important?
Supply chain management is important because it will help to achieve most of the business objectives. For example, controlling the manufacturing processes will improve the quality of the product, reduce the risk of recalls and lawsuits while helping to build a strong consumer brand. At the same time, controls over shipping procedures will improve customer service by avoiding costly shortages or periods of inventory oversupply. In general, supply chain management provides several opportunities for companies to improve their profit margins and is especially important for companies with large and international operations.
Steps of Supply Chain Management process
Demand planning
The supply chain planning or management process starts with demand planning. Demand planning is a process of gathering past data such as past sales, forecast of the types and quality of products manufactured etc.
Production planning
In production planning the company nails down where and how the products called in the demand plan will be manufactured.
Materials Required Planning
Materials Required Planning (MRP) is a system that helps to calculate the materials needed for the manufacturing of the products. The MRP consists of three major steps, namely –
Inventory of materials or components in hand
Need of additional materials or components
Scheduling of production or purchase
Inventory management and logistics
Inventory Management supervises the flow of goods from manufacturers to warehouses and then to the point of sale. The main agenda of inventory management is to keep a check and record of entry of new product, return of product, sale of products from the warehouses.
And logistics is the transport and storing of goods from the start of the supply chain, with delivery of parts and materials to manufacturers, to delivery of finished products to stores or directly to the consumers. Thus, inventory management is threaded throughout the logistics process.
Strategic sourcing
Strategic sourcing is a process of developing channels of supply that formalizes the way information is gathered and used by organisation for consolidated purchasing power to find the best possible values in the market and align the purchasing strategy to business goals.
Why Supply Chain Management solution is essential?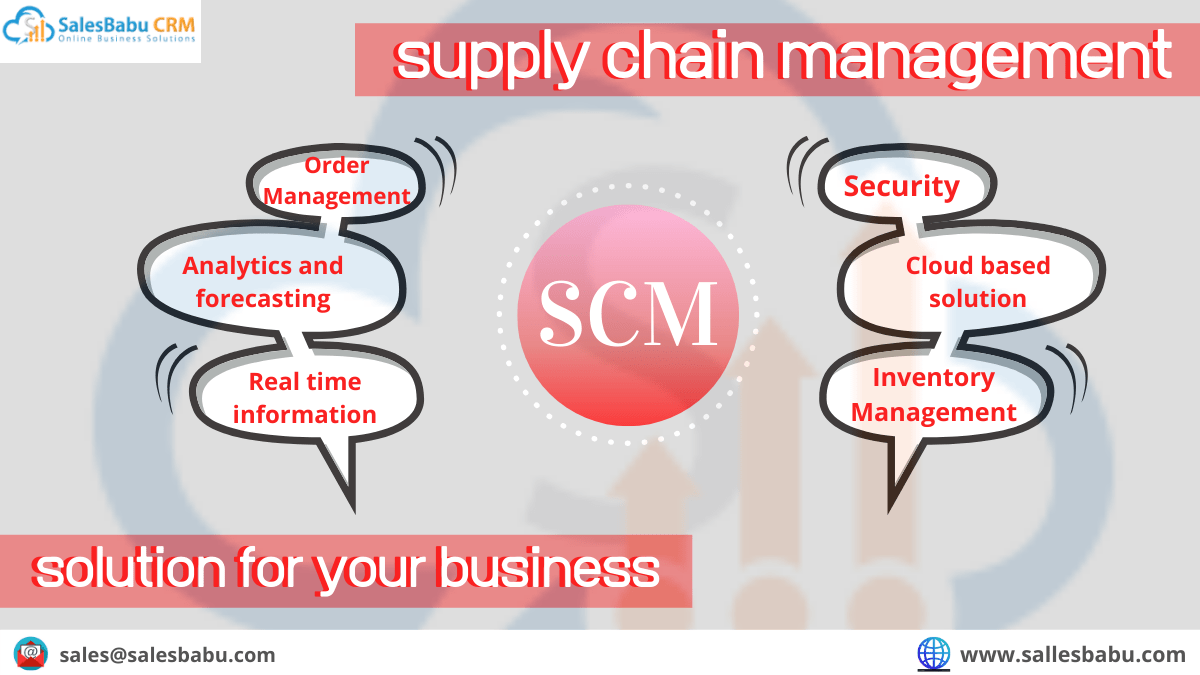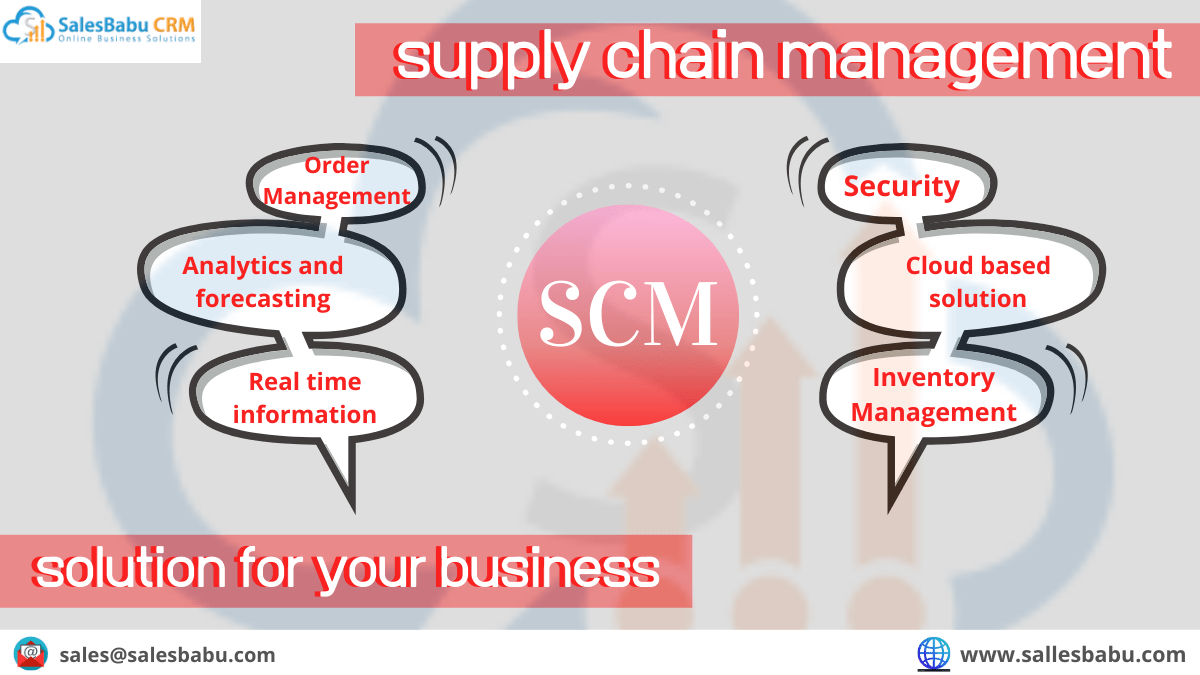 Supply Chain Management software is a solution that supervises or manages the movement of goods and data from the point of origin to point of consumption. The supply chain management solution optimized the supply chain process and automates the entire process. It provides efficient flow of information from the supply chain to the company, eliminates repetitive tasks and creates smooth functioning of supply chain management.
Here are 8 essential features of an effective supply chain management solution
Inventory Management
Inventory Management software helps the companies to streamline and synchronize the stock levels and inventory work force in a single platform. It includes tasks like – placing new orders for products and shipping orders to customers.
Features of an Inventory Management software are –
Bills of Materials (BOM)
Goods Receipt Note (GRN)
Issue and receipt
Finished goods management
Raw material management
Delivery challan
Benefits of an Inventory Management software are –
Increased sales
Reduction in costs
Customer retention
On time delivery
Forecasts the exact demand
Improves flexibility
Read our blog – Online Inventory Management System
We at SalesBabu CRM Solutions have developed Inventory Management System Software (Inventory Planning) which is 100% Cloud Platform with Real Time Data for growing businesses. To know more about us, visit our website https://www.salesbabu.com/.



Real time information
The availability of real time information is essential to avoid bottlenecks, track supply chain data such as inventory of raw materials, availability of supplies and expected needs etc.
Features that provide real time information in a Supply Chain Management solution are-
The personalized dashboards provides insight of the up-to-date status monitoring of the entire supply chain management process with a single click and simplifies the governance.

The real time notification provides instant information on the supply chain activities. Real time notification eliminates delay in carrying out the supply chain activities, helps to make instant decisions and keeps the users informed in real time.
Analytics and forecasting
With automated day-to-day tasks, good supply chain management software comes with an in-built analytics and forecasting feature. These analytics presents data in the form of graphical graphs, metric analytics and MIS reports. The benefits of analytics and forecasting features are –
Identify bottlenecks
Understand the functioning of the supply chain activities
Make future predictions and plan for future production
Anticipate customer demand
Cloud based solution
Cloud computing is an On-Demand availability of the computer system resources which offers IT as a service. You get the complete hosting facility from a dedicated cloud solutions provider without any bugs in working to store all your database. The cloud provider save all your data and protect them from any of the virus attacks, malfunctioning etc.
Benefits of cloud based solution are –
Accessible from anywhere at anytime with internet connection.
All your supply chain data is safe and secure in the cloud.
Cloud is a cost effective solution as you pay, as per the use.
It reduces paperwork.
It is a centralized platform.
It can be easily implemented.
Provides unlimited storage space.
With a cloud based supply chain management software, users can access the data from anywhere at anytime. They can manage, track and monitor the progress of the transactions in real time. Having access to mobile apps to manage the supply chain and logistics is an added advantage to the users as they remain upto date on various supply chain management activities.

Security
Security is another most important aspect of the supply chain management software. While choosing a supply chain management software, make sure the cloud based solution comes with security features like –
Data encryption
Network monitoring
Virus scanning
Multi-factor authentication
Role based authorization
Order Management
The order management involves seamless integration of orders from multiple channels with inventory database, data collection, order processing etc. it starts from when a customer places an order to keeping track of the order until it reaches the customer. The speed at which an order is dealt with internally can make or break a business because customer expectations are so high. Whether the sales order is imported from online selling platforms or created manually, you need to be able to act on it and ensure it goes straight into processing and delivery, so you're exceeding your customers' expectations every time.
Benefits of order management software –
Fast sales order processing
Information at your fingertips
Proforma invoicing
The features of an Order Management software are –
Order details
Pending payments reminder
Pending documents reminder
Work order assignment
Product details
Customer details
Field service Management
Field Service Management is the management of the end-to-end activities in a field service organisation. The field service management includes scheduling, inventory, invoicing, billing and accounting.
Benefits of Field Service Management are –
Resource optimization
Team coordination
Real time visibility
Increased employee productivity
Customer satisfaction
Features of a Field Service Management are –
Complaint management
AMC management
Warranty management
Spare part consumption management
Service quotation management
Installation management
Read our blog – Field Service Management Software
A Field Service Management Software is a cost effective investment that can benefit your organisation to the fullest. Just see to that you invest in the best Service Management Software for better results. If you wish to know more about the actual working of the Service CRM software as well as Cloud based CRM software, visit our website https://www.salesbabu.com/.


User-friendly interface
Lastly, the basic necessity of a supply chain management software is an user-friendly interface. You might have the best solution but if your employees are facing problems or finding it difficult in using the software, the solution cannot do any good for you.
Some other features of Supply Chain Management :
Customization
Prebuilt components within the application and customized configuration of business rules introduce flexibility that helps businesses adapt to changes quickly and visit the market faster, with customized solutions for consumers. Some of the supply chain solutions will let developers extend their features with programming languages like Java and Python. Open architecture also encourages organizations to create their own applications to form their unique requirements like developing multiple variations of a product to cater to different customer segments, thus maximizing profitability.
Scalability
Any software must grow with a business. And as organizations make inroads into new regions, expand their product documents, and obtain new customers, a supply chain solution must be ready to handle the increasing volume which comes with it. It also has to support multiple applications and extra channels without affecting the system's performance.
Conclusion
By implementing a tool with the right features, your business can compete with the fast-paced industry. Implement a single platform solution which provides the best supply chain management features for your business as mentioned above.
SalesBabu Supply Chain Management software comes with a complete package of essential features which helps your business to optimize its supply chain activities.