A distribution management system platform is seemingly confusing at the first glance and at the start. The distribution management system is used to stimulate, maintain, and manage the complete stock flow and its operations and processes which can be achieved throughout your business retailer and distributor network and business.
A distributor management system is very important in every business because of its potential features and in case you are a business distributor or a wholesaler your business profit margins and success rates are essentially and genuinely completely dependent on the business and the turnover of your collective business products and goods.
To put it in simple words, the more products you sell, the better it will be for your business and organization or company.
You will also be handling a business repository of many perishables at the same time. This will simply mean that you will not be able to afford to manage and store more than optimum and required stocks at any point in time in your business deals.
Moreover, the excess stocks of your business may turn into a huge burden that might demand a lot to be distributed and maintained within their shelf-life so you must be able to manage and maintain it really well.
Currently, you will have to strike a perfect balance between the situation of demand and distribution management. To achieve this, you will need to have a proper comprehensive and best distribution system that will understand the diverse aspects of your business marketplace which is very important.
When handling all these incoming and outgoing products and goods through a single and common platform, you will be able to learn to expand and increase your product and good sales.
Before you understand the operations and processes of a distribution management software platform, let us examine the main and critical challenges which are very important and must be faced in the distribution management operation or process.
This will help you gain a very important and comprehensive business system that will be conceived to maintain and tackle these business issues with the help of distribution and management system operations and processes.
Read our blog – Sales & Distribution Management Software
Primary challenges faced by the distributors
By understanding the current situation, these are the main and important challenges that are usually faced by the distributor within an organization. With a proper understanding of the most important point of the current issue of these main challenges, you will be able to become adapted to negotiate these various chief problems that usually occur.
#Too Many Retailers to Cover
Even with a little rise of the multiple retailers and business options, the various number of business retailers will continue to rise steadily every now and then. This will also mean that you will have more feasible and important opportunities to sell your business goods and products.
#Streamlining the Business Supply Chain
In many industries and business organizations, you might have observed that they would be facing large-scale business problems and fluctuation and various changes in the volume and range of the orders that they usually take and distribute.
A business supply chain distribution management system software CRM will let you understand, maintain, manage, and incorporate these various fluctuations as soon as possible, which will enable you to easily and in a simpler format to manage your business orders and deals.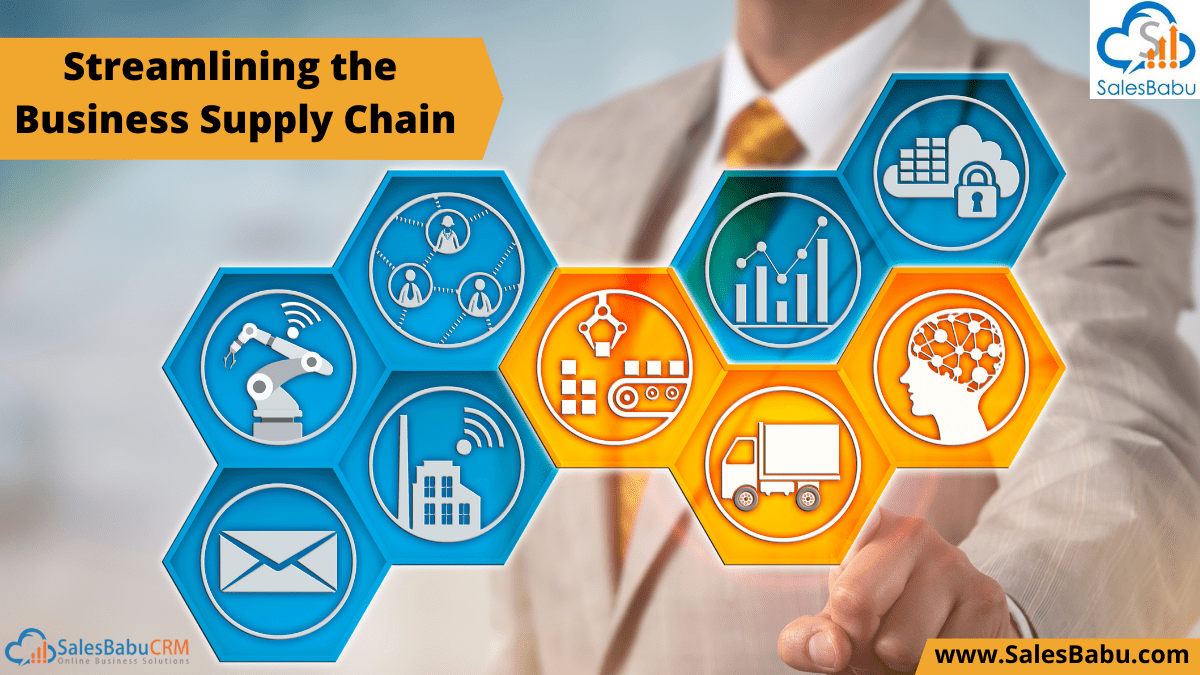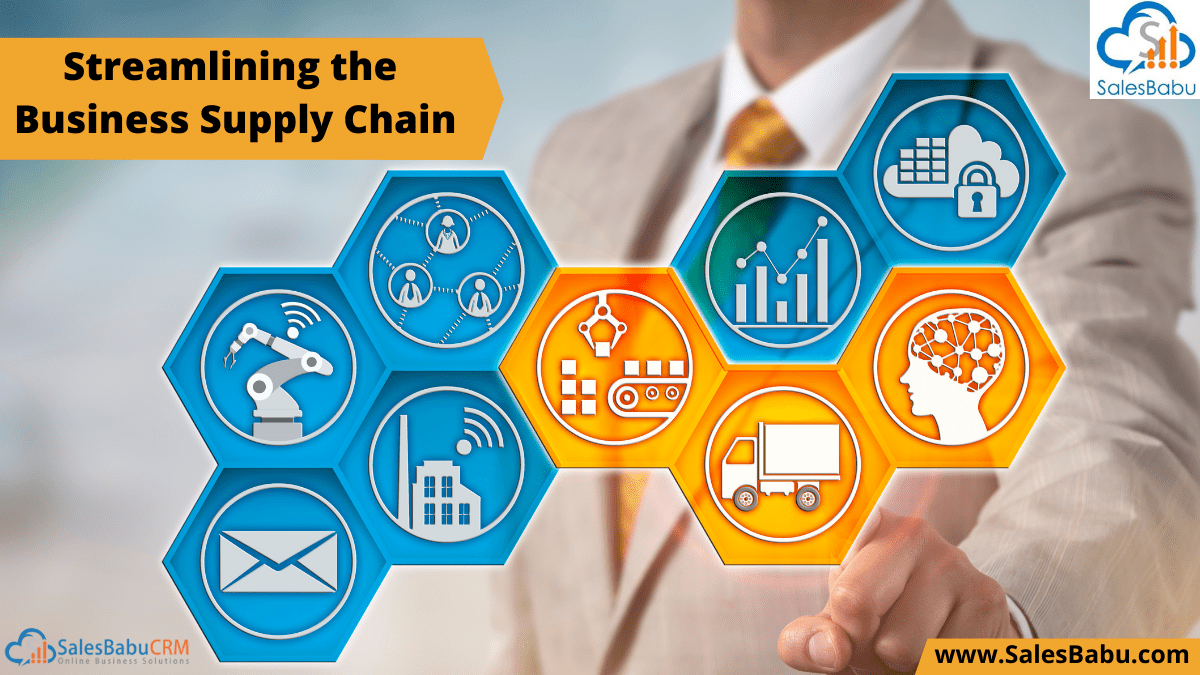 Read our blog – Efficient Inventory Management System


#Product or Good Overcrowding
In the current days, many industry verticals are overcrowded in a positive manner. A good or product from a business is not only going to compete with similar goods and products but also all the goods and products that will offer a similar purpose and utility.
To explain it in simple words, it actually means that if you are trying to sell a packet of chips then you might have to consider the manufacturers of biscuits as your direct competitor only then things will work out well in the current competitive world. It is required for you to achieve and accomplish the shelf space with optimal views to acquire the minimum requirements of your goods or product turnover and bulk.
#Managing the Statistic of the Available Products or Goods
Most of the distributors will suffer from a problem which is a disconnection between the available business inventory list and its retail demands and requirements. This will be able to alternately lead to loss of orders or orders that might be taken for the list of unavailable stocks according to available business inventory.
This information management that is absent will also have an effect of delay and late arrival over your entire business sales pipeline and important business operations and procedures. Hence, the best use of the distribution ERP and dealer distribution management software along with the distribution management system software of your business will help you solve this issue and run your business smoothly.
Read our blog – Why Distributor Management System necessary for an FMCG company?
#Maintaining Prompt Order Taking
In case you are a distributor of any business organization, especially in the current competitive product and good space, the major difference between a successful one and a failure may come down to business retailers' interest level and demand for your brand and product.
You might also need to present a simple and easily accessible product catalogue for every customer and prospect so that things become easier for them.
In the experience of certain situations, you are basically putting effort and trying to sell business products that are mostly similar to your product and goods. Use the best distribution and management system to achieve profits and run your business well.
#Creating an Ordering Cycle
If you are able to learn anything and everything from this particular blog, it is all about the major significance of establishing an order cycle for your business that might actually bring in certain repeated and periodic business orders and deals.
It will also practically ensure a regular business turnover for your brand, goods, and products without any action and the best prospecting. Hence, make proper use of the dealer distribution management system along with the distributor system to make sure that your business runs well with profits and good orders and deals.
Prompt Customer Service (Problem)
In modern technology, customers are distinctively involved with the supply chain. Since the initial interaction with a sales representative, a company starts collecting the pivotal details in relation to the customer's product preferences, purchasing history and follow-up interactions. Most of the companies may also go through customer reviews, complaints and items returned.
The quantity of customer information that is well used during operations is tremendous. In cases where a company is not armed to collect and examine the data, it tends to become difficult to maintain inventory levels to catch up with the customer demand as well as upsell/cross-sell the accurate products to customers.
Furthermore, a company cannot efficiently track problems in its supply chain that are not pleasing its audience which could be delayed shipments or damaged products.
Introduction of Interface Platforms (Solution)
Among numerous technology solutions available, the introduction of modern technology such as customer relationship management systems may support companies to maintain the huge quantity of collected information and examine it to further simplify the movement of the supply chain processes.
Such systems may involve application programming interface platforms which will allow the customers to have an uncomplicated time interacting with sales representatives while placing orders and interacting software for enhanced employee communication when sharing customer details.
Read our blog – SaaS or On-Premise Distribution Management System | SalesBabu DMS
Negotiating these Challenges with a Distribution Channel
In many business organizations or industries, there is a facility of a smart distribution platform that will accelerate and streamline the complete business flow of products and goods.
This will help you maintain and manage a healthy and balanced level of goods and products across the complete distributor management system network.
This business process or operation will let you create and maintain a well-organized and planned stock business flow that will help you build a solid relationship between a distributor and a retailer.
The distribution management software operation and the process will also help you in avoiding wasting precious and important resources within your distribution and management system platform.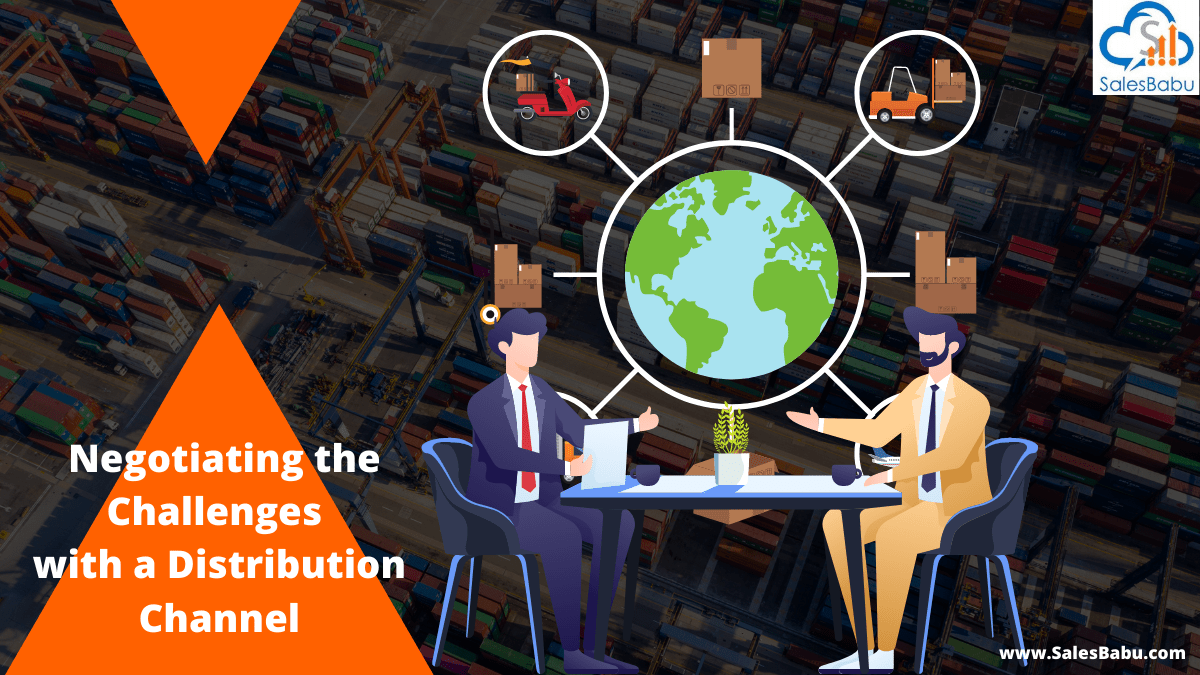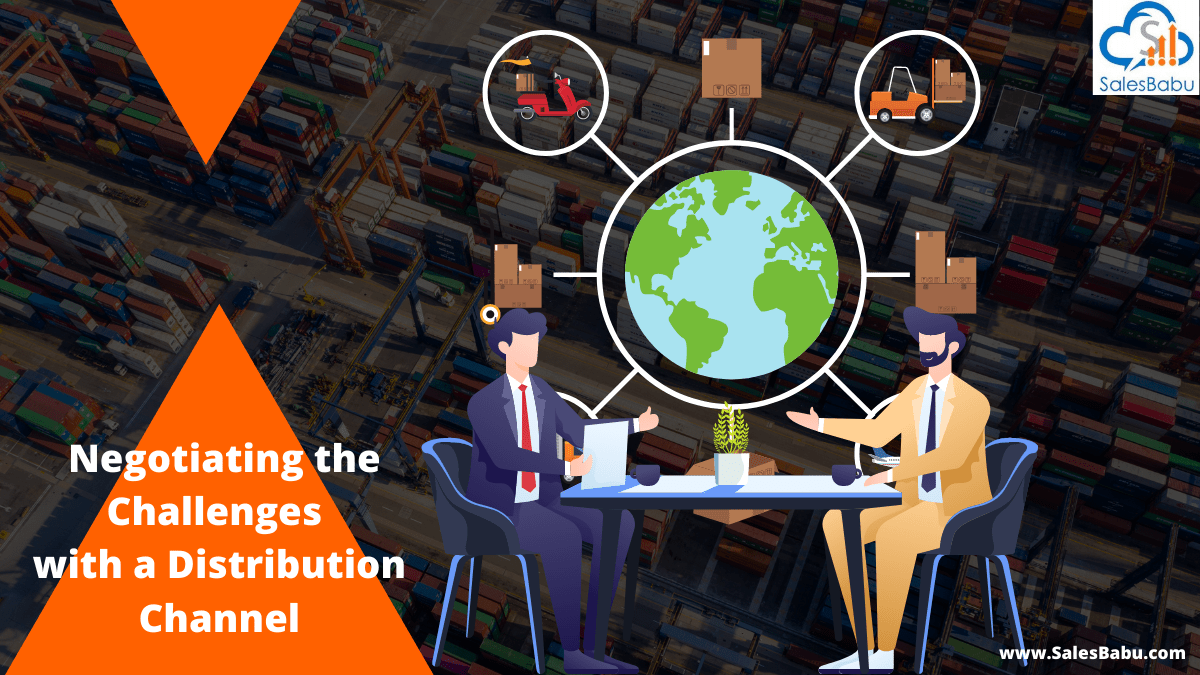 Taking Orders and Handling Stocks
The gap between taking orders and stocking capacity will easily turn out to be very expensive. The distribution management system software CRM will consolidate and bring down your complete business order network and hierarchy to a single and common dashboard.
In the beginning, the distribution manager will update the available business stocks on a common and single dashboard. Later on, field business sales of distribution ERP and dealer distribution management software CRM representatives will be able to update orders at each point and part.
Further, every distribution manager will be able to approve each business order to create a prospect and customer deal or order. This important protocol of taking orders will avoid false or fake orders or business deals and stock mismanagement.
Managing Customer Visits
Even though there are numerous alternatives, the business and retail network distribution management system is still being dictated by many individual store visits.
This will require you to maintain and manage a proper timeline for maintaining visitation with each and every individual retail store and business.
The daily schemes and planning management system will establish a clear and transparent hierarchy for your daily customer and prospect visits. This will allow you to determine an optimal frequency beforehand for visiting each and every store.
This will also help you systematically and with a plan to derive a connected management system to manage and maintain your daily business and store visits.


Establishing Wholesale and Retail Touchpoint
When you are trying to create a business supply chain, you must establish a good and well-organized process and operation sales pipeline. A distribution and management system will let you connect and collaborate within a single and common platform.
This will involve creating a strong connection between the business retailers and wholesalers. This will allow you to organize and manage a proper business flow of goods and products between various touchpoints.
Conclusion
The system of distributor, retailer, and consumer relationship has been tested perfectly and it is derived through the ages. The current ongoing product and good overflow and the retail level saturation will make the role of a business distributor incrementally very important.
The distribution management system software platform will let you manage your daily business duties and simulate your stock flow through a single and strong CRM interface such as our SalesBabu platform.