Most of us consider CRM, with respect to storing relevant customer data. Have you ever thought of how CRM can be effectively used to streamline sales process and in turn increase sales productivity!
As part of our numerous implementations, there is a clear relationship between implementing CRM to effectively handling leads, increasing customer satisfaction by timely support & service, and increased sales revenue. Most of our customers felt productivity has increased as a direct result.
Key elements of SalesBabu CRM are  – user friendly, ease to use, correct map to sales process, efficient, reduction in time spend on non-sales activities, giving more time to sell, integrates & collaborates all teams.
The challenge is to implement the CRM in a careful way so as not to lose out on the current pace and companies process & values. One of the SalesBabu CRM customer instantly benefited by moving all manual process to the system, saving time and centralized data view leading to enhanced management decision.
SalesBabu CRM provides full 360 degree view of the customer, leading to better customer learning, helping in better customer service leading to repeat orders and referrals.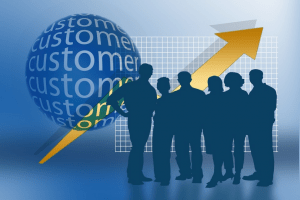 Benefits of SalesBabu CRM
Sales Force Automation: SalesBabu Online Sales CRM Software automates complete sales and marketing activities in a single system & leads to high sales force performance and profitability by giving you everything you need to sell effective.
Sales Tracking: Sales CRM Software effectively contributes in sales tracking system. It preserve the structured information and offer an efficient information retrieval from  registering the leads, filtering to opportunity conversion, accurate product mapping and categorization, order processing and even tracking complaints, all are done, right inside a centralized database.
Lead Tracking: Converting leads into deal is first and foremost task for any business. SalesBabu Sales CRM Software offers easy access to new enquiries and flawless lead tracking system to get more conversion from sales leads managed in the sales CRM software.
Sales Forecasting: A real time Dashboard with future insight for a businessman is indispensable. As theOnline Sales CRM software helps him to gain an insight to sales predictability within no time. Thus enable him to arrange resources and plan budget accordingly for his business.
Market Automation: Enhance your marketing efforts with more relevant information. Sales CRM Software ensures that you'll always have the information you need, in context, to understand your customers, create innovative marketing programs, and measure their effectiveness. The software is more focused to give dedicated services to the existing clientele or following up with new enquiries in order to convert them.
CRM Analytics: In business time is money. MIS & analytics can be considered as a very good data mining tools. Information as MIS & Dashboards graphs make the data available in more concise for sales force automation. With SalesBabu CRM you will get CRM data in more.