Is Education an industry? Yes, presently the educational sector is changing rapidly with more and more private educational institutions. This industry has almost reached the peak as the idea of business via education is going hand-in-hand. In India, Education is one of the prime industries since its contribution in the nation is well known. With the combination of large size and high growth, no wonder the educational sector is among the most attractive industry sectors in the country today.
In the present market, the focus is on improving the marketing strategies of the educational institution and ultimately increasing the students i.e, the customers. Customers are seeking more attention and immediate resolution for their queries and the need to concentrate more on customers is increasing day-by-day. Implementing CRM for the educational institute can be an effective way to convert the number of student enquiries into admissions.
(For an educational set up, the term customer can be a little misleading, since it is against our country's tradition & culture. So, we can replace this term by student.)
Now the question is, how to convert more students enquiries into admissions? Here are certain steps that you need to implement in order to increase student admissions for your educational institution –
Create a sense of urgency
Creating a sense of urgency in the minds of the parents is the first step towards converting a student enquiry into admission. This urgency is not created by a single event or a single conversation, rather the urgency emerges when there is a systematic approach by the educational organisation.
Make a follow-up strategy
Preparing a follow-up strategy to follow-up the students is extremely important. Devoting some time on follow-ups efforts can help you improve their conversion rates.
How to follow-up student enquiries?
Create lead capture forms that encourage student enquiries.
Streamline follow-up and student enquiry using a CRM for educational institutions.
Prepare a lead scoring framework for targeted student enquiry follow-up.
Make timely phone-calls.
Make use of email or SMS campaigns.
Reduce response time
The present generation demands instant responses to their queries. Creating an emotional bridge of communication between the student and the educational institution becomes very important. The education CRM is one of the best automated tools to follow-up, prioritize leads, set reminders and send responses instantly. Worried on How to evaluate an Education CRM Software?


Online existence
Your educational institute's website has most of the information related to contact your organisation but your prospect i.e, the student will not just refer to your website but will also check your social media accounts on various websites. Social media plays a vital role to attract students. Today's students rely on their timeliners for news, updates and research etc.
How to attract and engage students on social media platforms?
Be active and engage with your customers.
Give them a glance of your campus as well as what happens inside
Share updates on competitions, events and college news
Keep alumni active in your institution's community
Take help from Analytics
The analytics provides an opportunity to measure the success or failure endured by your organisation. There is a metric by which the marketing performance is measured. With the help of analytics you can analyze the best sources of lead generation, highest dropping out of applications, updates that students prefer and parent's decision criteria etc.
These reports provide you an insight of the use of resources in the right direction and on the right target students so that any bottlenecks in the process can be quickly spotted and corrected. Thus, an education CRM software provides reports of your student admission performance as well as marketing strategies.
Benefits of CRM for Education Industry :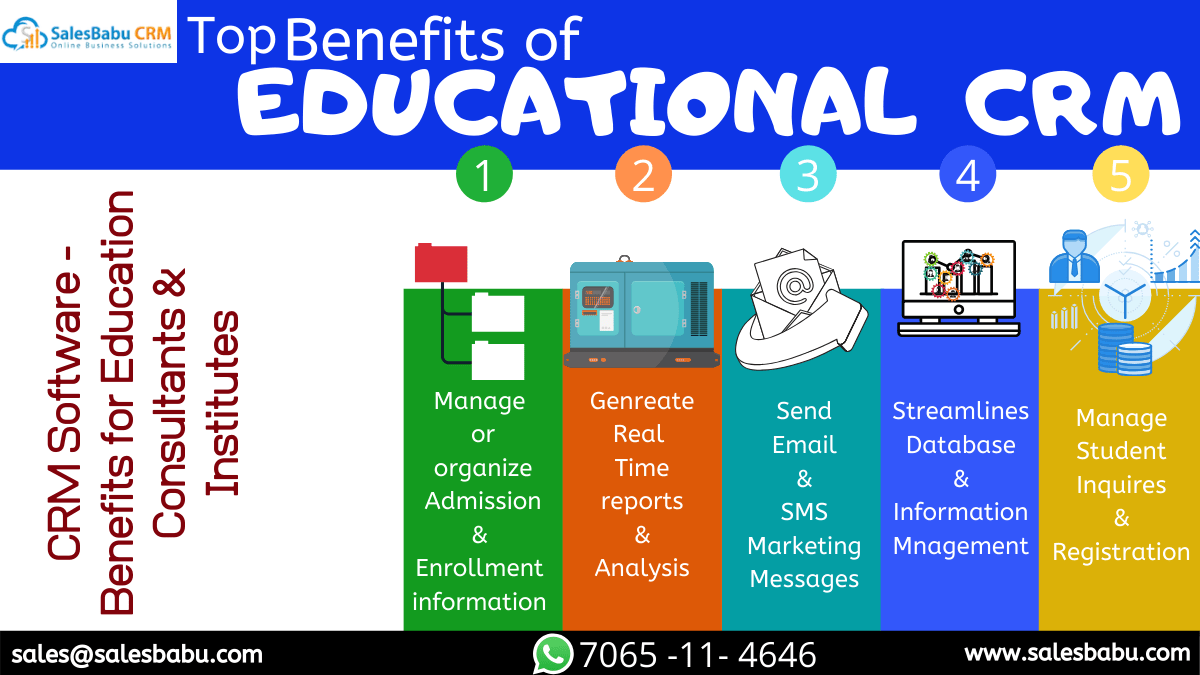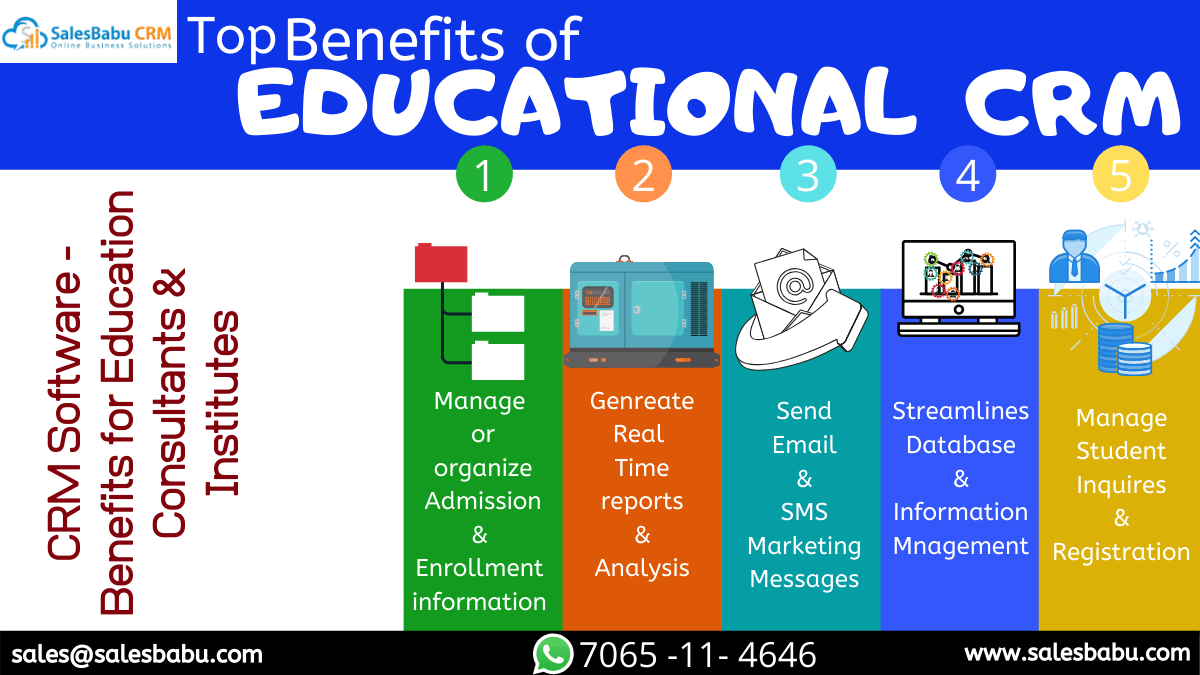 Lead Tracking & Enquiry Management: Education CRM enables the educational setup to track the leads from multiple sources, by which they can evaluate the feasibility of them, moreover they can also manage the enquiries on one single platform without any trouble & they can even allocate those leads to the respective person or center in few clicks.
Student Database: With an education CRM, the educational setup can maintain the complete database of any individual student, consisting of all details, whether his/her personal (like name, address, contact number etc.) or academic information, and everything they can do on a single platform.
Identify the Decision Maker: By the help of CRM for educational organisation, they can easily store all the required details of a student. By this, they can come to know, who can make decisions with regards to the student's admission or any other activity. It saves a lot of their time & effort in converting any lead to the final student admission.
Admission Management: CRM for educational institutions helps them in managing the complete student admission process, means, in which course or programme the students want to admit, in which center he wants to go, helps in managing all the academic documents and many other activities that required in completion of admission of any student.
Follow Up Management: With an Education CRM software , the educational setup can also make follow ups for every enquiry as many times as they want. They can keep a record of every interaction with the student, during the counselling process. It helps them to maintain the follow up & conversation cycle with the student.
Fees Payments & Reminders: Sometimes it happens, due to multiple numbers of batches, the fee schedule for every branch is different. So, it is very complicated to remember every date for fee payment. With an education CRM software, the educational set up can store the fee payment date with the amount and make the reminder for the same. Moreover, they can even make reminders for other types of activities like; Birthdays, anniversaries etc.
MIS & Reports: By the help of CRM for the education industry, the educational setup can easily generate all types of reports, related to the overall activities of the system. It helps them measure their own performance during a particular tenure. It shows the reports like; number of enquiries generated, number of student admissions done etc.
Handle Student Inquiries: Deliver high-quality service by making follow-ups for each inquiry. Keep a record of all the interactions made with the student during the counseling process with a CRM system for higher education. Maintain the follow-up and strengthen the communication process between your academic institution and the student. All this could be done steadily through the most effective CRM software for schools.
Enrich Student Life Cycle Management: Student Lifecycle Management begins with enrollment. Once a student gets enrolled, the retention phase will revolve around tracking each student's progress. The final step is when a student graduates and becomes an alumnus. With the proper institute management software, take advantage of this opportunity to reach out and engage with them across all touchpoints in the student experience. Enhance their interactions by initiating personalized communication channels that provide measurable results back to you so that you can make informed decisions.
Build Long-Lasting Alumni Relations: Alumni will help all students to define their career goals and provide key networking contacts to assist in the transition from graduation to employment. They may also aid in raising funds. CRM software for educational institutions provides you with the tools that your institution needs to manage personal connections and networks within the alumni community. You will gain useful insights about your donors with Marketing Automation and build long-lasting relationships.
Wish to know more? Check out our blog – 7 Key advantages of Education CRM Software


Conclusion
We live in an age of options and instant information availability, thus the educational hubs are targeting to build a strong relationship with students and convert more student enquiries into admissions every year. Online payments, automation and social media are just the beginning. There are many tools out in the market that aid the student admission processes today. Use of such proactive marketing approaches gives a competitive edge to the institution.
Today, educational CRM software comes widely in practice by many educational hubs. Having witnessed the change, educational hubs are targeting to build stronger relationships with students. The education CRM enables secure access of essential information of students and empowers them to manage and control their information. Therefore, the CRM for the educational industry has been boosting up the marketing efforts as well as attracting the targeted segment of the industry.
If you wish to convert more student enquiries into admission with the help of automation, you can implement an Education CRM software for your organisation. You may also contact us by requesting a free demo at SalesBabu CRM, where our CRM expert will help you choose the best services for your organisation's requirements and needs. You can also visit our website https://www.salesbabu.com/ to know more about us.