A channel sales strategy allows your company to take help from the third parties to sell your company's products and services. Channel sales are the kind of strategies that are usually deployed as part of your company's growth effort. Channel sales will help your company to grow in three key ways:
It helps your company to reach new consumers who don't purchase directly from the company but instead prefers to purchase from known consultants or resellers from their area.
Channel sales mainly are the programs that can help your company to find business in new potential geographic regions.
Channel sales are not made for everyone, sometimes the best way to profit margin of your company is by exploring partnerships and connecting with all different people who can indirectly sell your company's products or services on your company's behalf.
Read More – What is a Distribution Management System?


Even if your company chooses to have a direct sales initiative, your sales channel strategy will not cause any conflict with it. That's why your company should aim for channel sales at the target markets and at potential demographic regions, that your direct sales team can't reach. A company will always get beneficial from well-designed different ideas for selling.
What does channel sales mean?
Channel sales is a kind of strategy which involves taking help from partners and third parties—such as various referral partners, managed service providers, marketplaces, affiliate partners, distributors, wholesalers, or value-added resellers—to sell your company's products or services. This method is quite in contrast to a traditional direct sales strategy method.
A successful channel program strategy can significantly increase your company's profit margin. You have to make an eye on your partners and have to closely work with your partners to make sure they are executing the correct plans and strategies.
Read More – Right Approach To Distribution Management Software (DMS)
Partners and salesmen sell the product and services very differently, often requiring different tactics to crack sales. You need to help your partners to sell your company's product and services by giving them the required training, and required tools.
How channel sales differ from direct sales?
The difference in between direct sales and indirect sales (or channel sales) are that the distance between the product and the consumer.
In direct sales, the manufacturer of the product (or the vendor) sells its goods directly to the consumer and earns all the profit. A good example of this is the local mom-and-pop bakery. The goods are made on-site by the owners of the companies, and transactions are made directly to the consumers.
With channel sales, vendors outsource to other companies, mainly for larger distribution. For example, L'Oreal Cosmetics has its own website with detailed data about its brands and its products. But no one can buy an order directly from their site. Most L'Oreal customers are  happy to purchase the products at a discounted price through Flipkart, Amazon, or any other third-party website.
In channel sales,in order to sell the product to the final consumer there's a third party involved. Such third-party could be a distributor hired by the company itself, a retailer, or a wholesaler. However, direct sales includes the manufacturer trying to sell the product directly to the consumer. One of the differences is that the companies in channel sales resist communicating with the consumers while the sellers in direct sales always try to communicate with the customers throughout the sales process. A margin of profits received by the seller in channel sales which is required to be shared with the third party while direct sellers enjoy the complete margin they receive from sales. Therefore, large businesses will get more revenue from channel sales while smaller enterprises can easily put up with direct sales.
Overall, direct sales methods could be more challenging and costly for those companies rolling out a new product or service into the market. However, channel sales methods are less expensive and risky for those companies who are without an established network of connections in the market.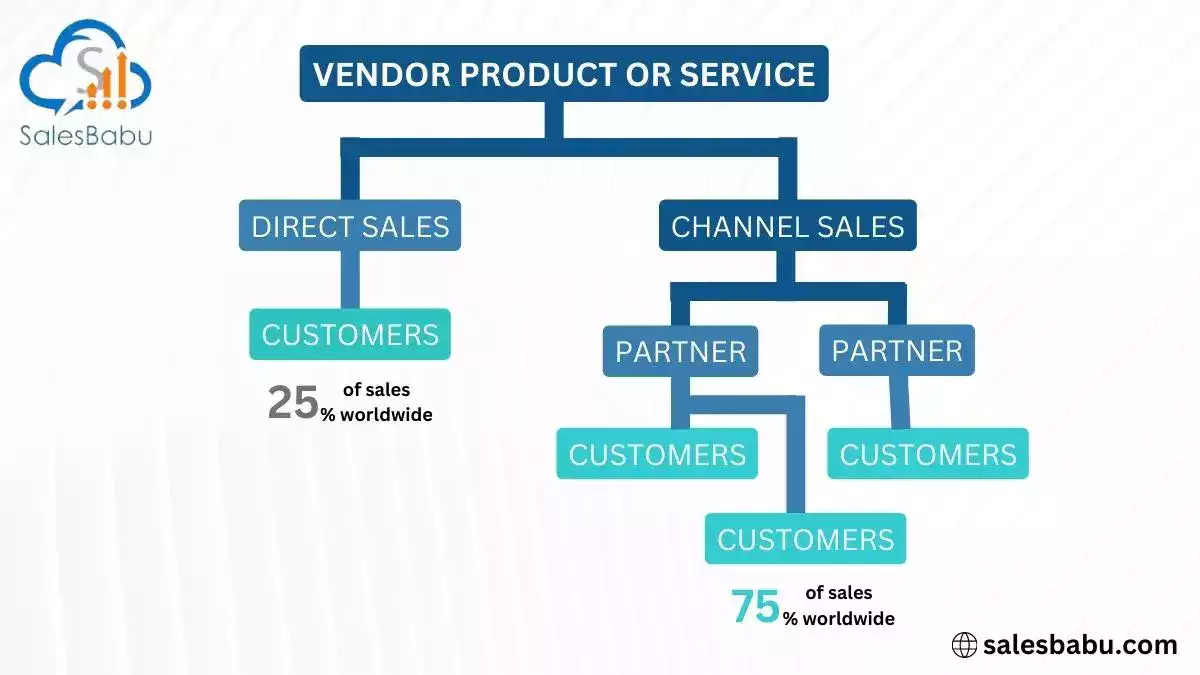 Examples of Channel Sales-
Independent brokers or independent agents- Brokers or agents arrange all the required transactions in exchange for a commission. Example- Insurance companies often sell their insurance through a network of brokers or agents who build relationships directly with customers. .
Retailers- Retailers sell products to the customers, often in small quantities. Most manufacturers typically sell their products through grocery stores or online retailers, they do not directly sell their products to consumers.
Dealers- Dealers act like an intermediary between consumers and the manufacturer company. Car and Bike manufacturers sell their products through dealerships.
Distributors- All distributors buy the product directly from the Manufacturer company, then they market it and sell to the customers in their geographical regions.
Affiliates- Affiliates are another way of marketing the product. Here Affiliates websites get paid a commission when that websites send customers to a merchant's website directly and customers buy some product or services from that website. A makeup brand company or clothes brand company might use beauty bloggers or social influencers as affiliates to promote its product online.
Alliances- Alliances are the kind of partnerships with manufacturing companies that sell complementary products. For example, a cloud software company like SalesBabu CRM might provide the company with storage in partnership with another tech company.
Resellers or VARs- Resellers or Value-Added Resellers (VARs) buy existing goods with the intention of reselling all the products to the customer, often adding extra features or services to enhance the value.
Read More – Lead Management Software System


The benefit of Channel Sales
Lower overhead- Selling Indirectly does not involve a lot of the expenses your company may incur following expenses from direct selling, like employee salaries, office space, health insurance, and mileage, as partners are not your employees.
Customer satisfaction- Partnerships can help your company in a multiway – from the selling complementary products to complementary services with your company's original goods and services. If your customers prefer to purchase one complete experience, indirect selling will allow your company to do better serve how the customer want to buy — without having to build it all yourself.
Built-in trust – When consumers already know and trust your company's partner, the partner's credibility benefits you, too indirectly.
Bigger network- Partners can introduce your company's brand to consumers who are not aware of your company's product and services in your existing circles and help you to maximize your revenue generation by making sales faster than you could.
Access to new markets- Partners who know and are aware of a specific niche or geographic area can help your company to expand your company into those areas.
Amplified reach – Partners can magnify and strengthen your marketing efforts with their own by hosting local events, driving webinar registrations, and many more to amplify your reach to millions of customers.
Read More – Tips For Choosing The Best Distributor Management System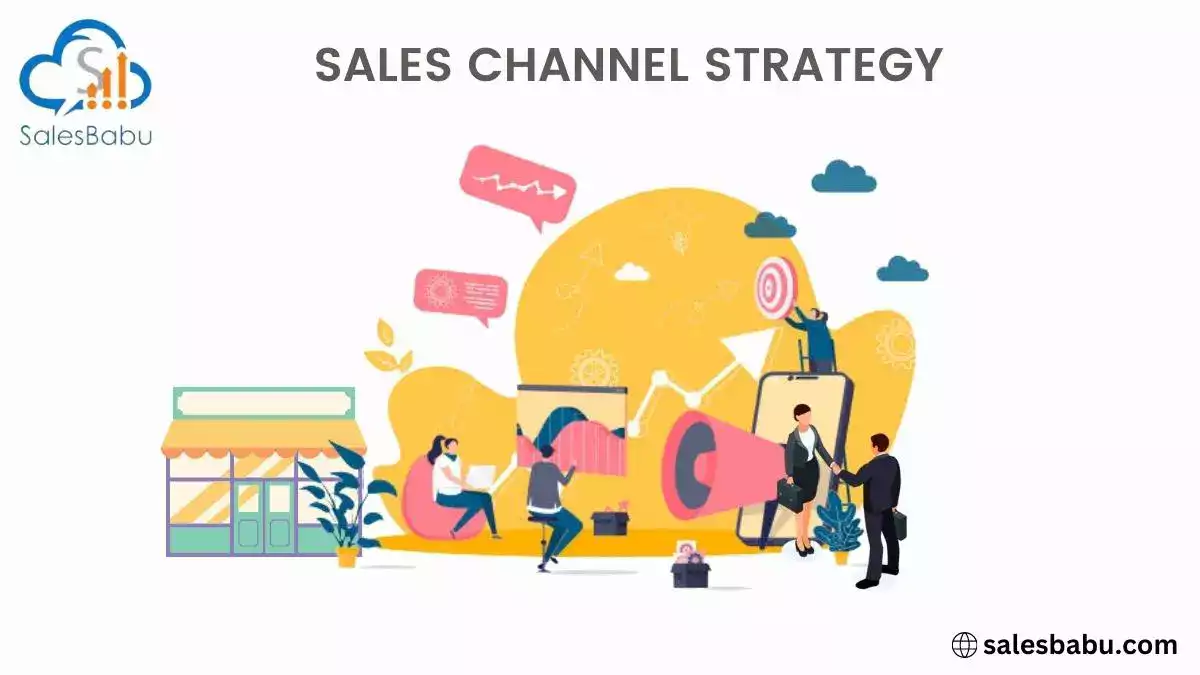 How SalesBabu CRM can help you create and manage your channel sales program
SalesBabu CRM is here to help. Whether you're thinking of expanding your company with a sales channel partner or wanting to create a better management system, request a SalesBabu CRM demo to see how our software can help you to achieve your goals in less time.