Real Estate is a growing sector at a rapid pace. The sales forecast in this industry is often very complicated & always a close eye on it, need to be kept on all possible business opportunity. This Industry receives 'N' number of leads in a single day from multiple sources & for an organization, from this industry, is a very tough task. Here, the CRM for Real Estate Industry supports the organization in a very good manner.
All sales people love to have referrals. But unlike real estate industry, a few organizations rely on this referral model for their sales process.  Majority of buyers are most likely to find their real estate agent through the 'word of mouth'. CRM for Real Estate Industry maintains spreadsheets, inbound calls and many other references. From a sales representative's point of view, it is a 'Life Saver Tool'.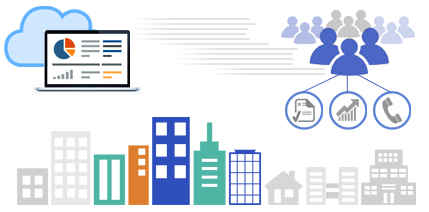 Real Estate Industry receives multiple enquiries in a day VIA different resources, and this is a very difficult task to handle all the leads potentially. Real Estate CRM enable organization to manage all sales force  on single screen without any trouble, where you can handle your enquiries more effectively and this will increase the sales order pipeline. This helps you out with the real estate industry Referral Model trend and with their sales process.   CRM for Real Estate Industry can maintains the entire customer database on single platform and this allows you to manage your inbound calls and other lead resource, which is crucial part of Sales Cycle.
Obstacles in Real Estate Business
How to track lead source?
How to manage Customers Lead Pool?
How to get reminders on future task?
How to do sales forecast on sales tier?
How to schedule pending payments?
How to manage business reference?
How to track Sales representative productivity and work?
How to make customer quotation?
How to do follow up with client?
Is it possible to handle entire customer database on single screen?
How to synchronize all Real Estate business tires?
How to bifurcate customer database according to marketing campaigns?
How to run marketing campaigns lucratively?
Is it possible to Increase Sales business with the help of CRM?
How to do Data Segmentation & reach to Decision authority?
CRM Benefits in Real Estate Industry
Enable to do handle continuous follow up
Enable to TRACK lead source
Enable to manage Centric Customer database
Allow companies to do sales forecast
Get automatic reminders on pending payments
Enable to do data segmentation according to requirement
Allow companies to run desired marketing campaign on Data
Enable to handle Business reference effectively
Enable to Track individual productivity
Increase Customer Satisfaction
How SalesBabu CRM helps Real Estate Industry?
SalesBabu CRM enables Real Estate companies to streamline their complex business task on one platform, where they can retrieve any information at anytime from anywhere. This helps you out to reduce the operational cost in real estate business.
Centralized Customer Database
SalesBabu CRM for Real Estate Industry centralizes all customer data of existing customer & new incoming enquiries on one single platform that leads to good relations between the Clients.
Synchronize & maintain Business References
SalesBabu CRM allow companies to capture their  lead sources, contact information and various other information's at micro level and  provide them access from anywhere. As we all aware most of the Real Estate Business depends on business references. SalesBabu CRM can take care of your business references more precisely in comparison of traditional model.
Forecast of your Sales Business
SalesBabu CRM for Real Estate Industry enables companies to do forecast on their sales funnel and provide a transparent picture of entire Sales Tier. This helps you to take prior action and improve the current status of your sales team.
Reminders & Follow-Ups
SalesBabu CRM for Real Estate Industry enables companies to do lucrative follow ups & reminders with client who makes business transactions easy and fast.
SalesBabu Real Estate CRM specially design for real estate business, which can streamline entire sales force and allow you to synchronize all the contact base and information on single platform, where employee can handle your existing customer and reference more efficiently.