Definition and meaning of Purchase Order
A Purchase Order (PO) is a buyer generated document that authorizes the purchase transaction. When the purchase is accepted by the seller, it becomes a contract binding both parties.
Types of Purchase Order
Standard Purchase Order
In Standard Purchase Order all the key details are known at the time of order made i.e, the items purchased, quantity, price and delivery schedule etc. This type of purchase order is used where there is a great amount of certainty over what and how much is exactly needed.
Planned Purchase Order
In Planned Purchase Order most of the details like – items, quantity, price and payment is already given but exact delivery dates are not scheduled. And when you lock down certain dates that you want your items to be delivered, you can create the releases.
Contract Purchase Order
In Contract Purchase Order even the specific item required is not known. In this case, you may agree on terms and conditions with the supplier, but nothing further is known.
Blanket Purchase Order
In Blanket Purchase Order is similar to Planned Purchase Order, here the item is specified with the delivery details. Basically, you agree to a maximum quantity for a specified period and then order any amount beneath the quantity.
What does a Purchase Order contain?
A Purchase Order contains –
Description
Quantities purchased
Price
Discounts
Payment terms
Billing address
Specific brand name or model number
Date of performance
Delivery date
Are purchase orders legally binding?
Yes, the Purchase Order documents are legally bound when the PO is accepted by the supplier and it becomes a legal contract for both parties.
What is Purchase Order Number?
The Purchase Order document contains a unique PO number that identifies the purchase order.
Why is the Purchase Order Number used?
The Purchase Order Number is used to evaluate whether the ordered products match the goods received.
It is used to match the invoice with the purchase order to ensure the charges as per the order.
Pros of Purchase Order
The Purchase Order documents provides accurate information about what the company has ordered and from whom. And the PO serves as a check of invoices on what needs to be paid.
Serves as legal documents
The Purchase Order serves as a legal document for the supplier as well as buyer for future references.
Keep track of the upcoming orders
The Purchase Order keeps track of the upcoming orders.
The Purchase Order helps in better budgeting as funds are required before the PO is issued.
As the PO tracks the delivery of the specific item, the company can schedule when it should buy.
How does a Purchase Order work?
The purchase order process is a journey of the PO from creation through the purchase order approval, dispatch, delivery, invoicing and closure. The Purchase Order is an important factor of the inventory management.
Once the vendor accepts the Purchase Order, the vendor outlines the required items, agreed price and delivery expectations and payment terms.
Upon receiving the PO, the supplier draws out the required items from stock and sends them for package and shipping.
The PO is then used by the suppliers to track inventory available against the inventory ordered and shipped to the buyers.
Steps involved in Purchase Order Process
The basic steps involved in Purchase Order Process are –
PO creation – PO is created from approved purchase orders.
Purchase Order Approval – PO approval is made after budget and document verification.
PO dispatch – After approval, the PO is forwarded to the selected vendor.
Binding contract – Once the vendor accepts the PO, a legal binding is created.
Goods Delivery – The vendor delivers the goods and the buyer does a quality check and notifies incase of defects.
Three-way Matching – The buyer performs three-way matching i.e, through Purchase request, PO and invoice.
PO closure – After the PO matching if there are no variances, the PO is closed.
How to automate Purchase order process?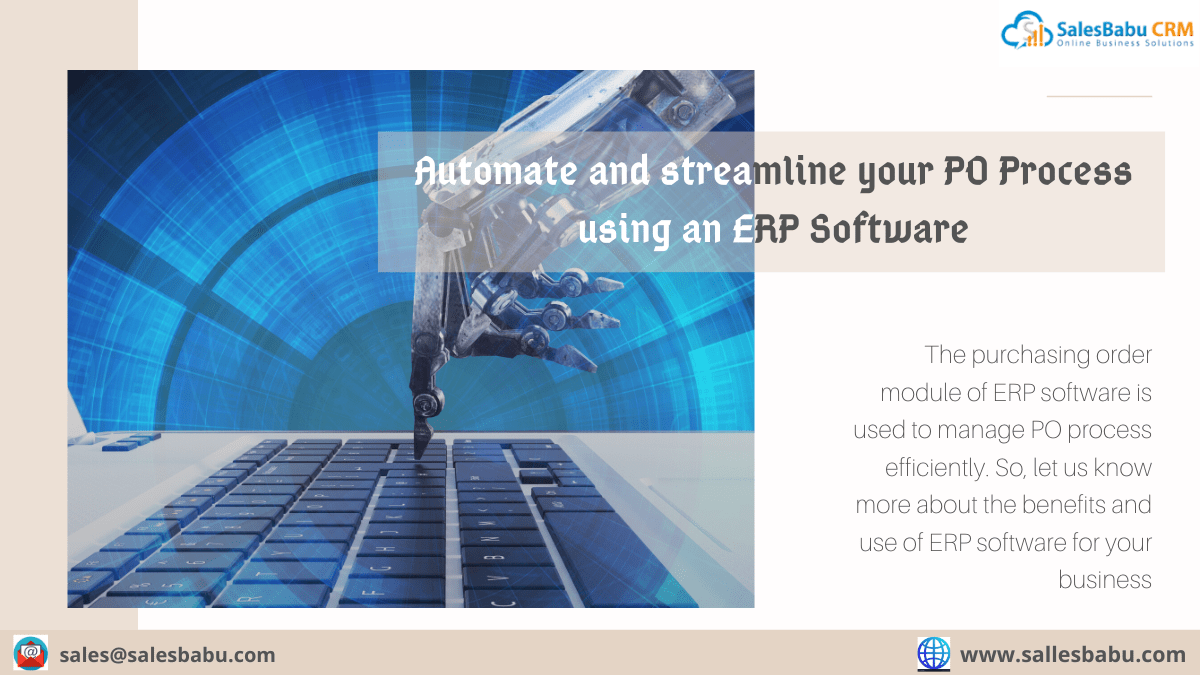 We are in a fast paced age where companies do not prefer creating paper based PO'S. Many companies have adapted themselves to automated tools and prefer paperless transactions. Buyers use a Purchasing Software system in order to automate the PO process. Automated PO's are used to send electronic PO's to vendors which eliminates the manual efforts as well as manual errors during purchasing orders.
The purchasing order module of ERP software is used to manage PO process efficiently. So, let us know more about the benefits and use of ERP software for your business
What is an ERP Software?
An Enterprise Resource Planning (ERP) system is a software which is used to manage tasks such as accounting, procurement, project management, supply chain operation, risk management and compliance. It helps to plan, budget, report on the organisation's financial results.
Benefits of ERP Software for businesses
The ERP Software provides access to information to various departments of the company.
The regular use of an ERP Software reduces the risk of errors as well as re-entry of data.
Helps to track total availability of raw materials instantly.
Manages invoices and DC.
Helps to set auto-notifications and reminders to follow-up pending payments.
With the help of the automated system, you can get automated reports with regard to purchases, inventory and orders. These reports help in decision making.
As the ERP system provides entire Purchase Order data on a single platform, it improves the efficiency of organising the entire process.
The ERP system promotes accuracy and transparency of data.
What is ERP Software used for?
The ERP Software is used for –
Financial management
Supply chain and operations management
Project management
Capital management
Business intelligence
Customer Relationship Management

How can SalesBabu ERP contribute to your business?
SalesBabu ERP provides 360 degree access of the entire data to the users. It allows the companies to reduce their operational cost and streamline the entire process in a single platform.
Manage Sales Business
SalesBabu ERP enables companies to manage Sales Force on a Single screen and streamline the entire sales process from initial inquiry management to till order closing. SalesBabu ERP allows companies to do customer follow up, get pending reminder on task, enable to make & manage Quotation (Price proposals), Customer Order Handling & Processing. This also helps you out with tracking individual salesperson work productivity and team work productivity, which allows companies to do Sales Forecast on the basis of Sales Funnel Pipeline.
Manage Inventory (Stock) & Warehouse Management
SalesBabu ERP enables companies to control the stock availability and exact requirement of stock to provide better services to the customer. This gives you better visibility on store items & enables companies to synchronize inventory levels with their item descriptions. Through SalesBabu ERP, companies can manage multiple store and maintain stock on a single database. SalesBabu ERP enables companies to do GRN, allow internal communication in between purchase department & inventory management via Purchase Indent feature.
Lucrative Purchase Management
SalesBabu ERP provides the visibility on the flow of goods that enables organizations to identify savings, spending against budget and trends across departments. SalesBabu ERP also reduces the risk of error because of its centralized customer interactions, purchase orders and purchase planning. It helps companies to evaluate inventory consumption, set stock reorder level on inventory items, enable to do purchase planning and reduce purchase cost on item.
Production Management
SalesBabu ERP enables companies to manage their complex workflow and operational decision on production floor, it allows you to maintain and synchronize entire manufacturing unit on a single screen. This helps you to manage 'N' number of work order task scheduling, allows you to make job card on the basis of order priority and enables you to create & set job work for vendor or third party worker.

Wrap up
To know more about SalesBabu Cloud ERP you can visit our website https://www.salesbabu.com/ or request for a free demo at SalesBabu. We provide 360 degree approach to business through our ERP Software.