Inventory Management System enables you for the fast processing of the inventory of orders and the balance quantity. It give you a real-time eye to check the stock of raw material, as well as the ready stock. Inventory Management Software in the best because CRM enables you to quantify the work in progress and complete details of the product with all accessories information. It helps you to tracks inventories at each level. Inventory management system gives you power to keep record of Purchase/ Sale, Orders with complete details of balance quantity and the consumption. Track inventory professionally with the electronic identification and make sure well-organized and quick scan of the products sold, received or transferred with the Inventory Management Software. Inventory Management CRM system alerts give you an intimation about a product to re-order when it reaches to the marked level. It generates work orders, bills and related documents and system warns you if an item is overstock at the same time you can avoid shortage with the help of set alert at the product's quantity level. Company managers get clear idea about the revenue engaged in managing the inventory of a product stock. Inventory Management Software enables you to track the items with its lot, Serial Number, Batch or barcode number. It provides you the real cost of material used to provide a service. In this case price of material to be added to service charges to understand the total cost. Inventory management System enables you to track products during the transit at the vendor's level or in the warehouse.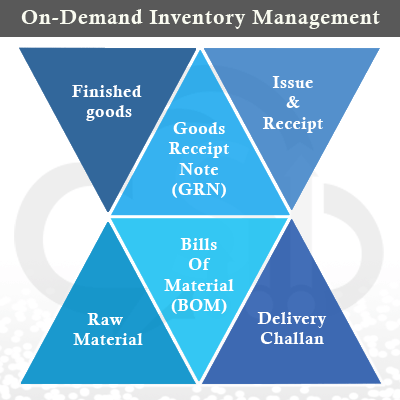 Ensures centralization of all information online, always updated with the information, intimation of finished goods and track information in reference of the model of the product with the inventory management system. Manage the list of assemblies & components of a product, name of spare parts, Description, Serial Number & Units Measurement.
Inventory Software helps you to reduce the chances of frauds and enables you to streamline the entire inventory process. It not only save your valuable time but also gives you a user friendly interface to reduce mis-management. The best inventory management software eradicates the chances of errors in managing stock and it enables you to generate Issues and Receipts online.