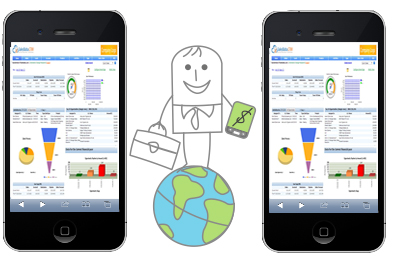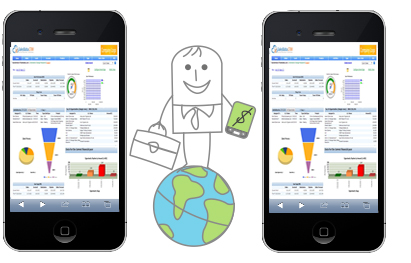 Using customer relationship management software is good but using CRM with latest trend is wonderful for any Business. Let's talk about some important CRM trend for small business
Support for Mobile Devices – It is very important in today's scenario and in this world of competition CRM solution providers cater to customers in very possible manner. Technology is changing with every passing day and customers demand and expectations are increasing too.
CEO'S/Heads want to control and track over the work performance and they need information instantly over the phone. CRM on mobile is the best solution for CEO's monitoring. As it can be easily accessible / work on BlackBerry smartphones and tablets, Android phones, iPhones, iPads, Windows Phones and other web-enabled mobile devices. Mobile CRM allows employees who are at remote location or on field or working from home to access, update and interact with customer data wherever they are. The mobile CRM solutions let employees do everything they could do with CRM at their desktop. The best part is that you need not have to worry about security as you can easily define security and other access preferences to individuals and groups of users, anyone who needs to interact with customer data. the mobile application works as off CRM on desktop.
CRM With a Social and Collaborative Focus – CRM service providers are aware that they are required to integrate CRM software with Social media platforms which requires a personal touch.
These days only few business houses are using social media platform as source of revenue and others are still not aware the power of social media platform. if you want to grow business, first you are required to strengthen relationship with your customers and this can be more precisely be done via social media platforms (interacting more with your customers)
SaaS Delivery Models – Software as a Service (SaaS) is a software where vendor or service provider through distribution model provides applications and are made available to customers over a network, via Internet.
It is designed in such a way that it helps businesses house to integrate the applications. It enables employees to use format throughout their offices. The main thing to consider is how the new software will work with your existing software, as well as with future software applications you may need to purchase.
CRM Re imagined- With the increase in mobile phone usage and most importantly now a day's carrying mobile phone is not a status symbol but a necessity and keeping this in view CRM service providers are revamping their software. So that individuals/ corporate can use CRM applications on mobile sets/ipad/hand held devices.
The current CRM Software's are based on forms, lists, and reports and although this has served client needs now CRM service providers are focused on reimagining the user experience.
The CRM software will be Re imagined which will be user friendly for hand held devices. It will come up with features like pop-ups, with drag and drop functionality within records, and full touch screen capabilities. A software which will focus more on outcomes and less on activities. It will enhance consumable experience (on any device) and you can stay connected seamlessly via numerous social media platforms.