Channel Visibility is a Crucial Part of every sales and distribution business, where you need to put some extra efforts to Manage & Synchronize your channel functions. Its mandate to take 360 degree visibility on different channels of your Channel Tier, so that you come to know easily about the achievements on an average yearly on your channel sales.
Channel Management
Previously, tracking exact channel sales were very complex task, where we need to track total Inward & outward of our products at micro level.  It was difficult to track each retailer, dealer and distributor sales on Original Equipment Manufacturer (OEM) product provider but with the use of CRM it's very simple to track each dealer & distributor progress & contribution on your Product & Service Sales.
SalesBabu CRM for Dealer & Distributors is a robust approach to track & maintain entire activities related to Channel Management. For managing Dealer & Distribution tier, it is necessary that we need a Lucrative Inventory & Purchase Management to track total Inward GRN's and outward GRN's of product at Channel level.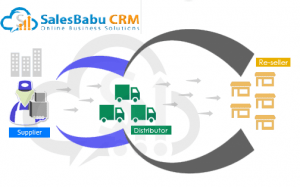 Challenges in Channel Management
How to Track Stock at distributor level?
How to Manage & Improve Supply Chain functionality?
How to manage various Secondary Resources of your business?
How to enhance relation with Dealers & Distributors?
Is it possible to Track & Improve Distributors sales?
How to Boost Channel sales tier?
Is it possible to set Visibility Parameter on Secondary sales process?
How CRM help them to overcome challenges?
Enable Companies to Manage Inventory flow in a lucrative& robotic manner, which helps you to provide prior intimation on available stock for that particular item in your Inventory.
Enable Organization to manage & synchronize entire chain of Sales Channels @ Single screen.
Enbale for real visibility and accuracy on Channel Sales Transactions.
Get Robust MIS, which can be used as a Business Intelligence Tool, which can enhance the Channel Sales visibility & pool.
Enable to organization to improve their relation with Different Sales Channels.