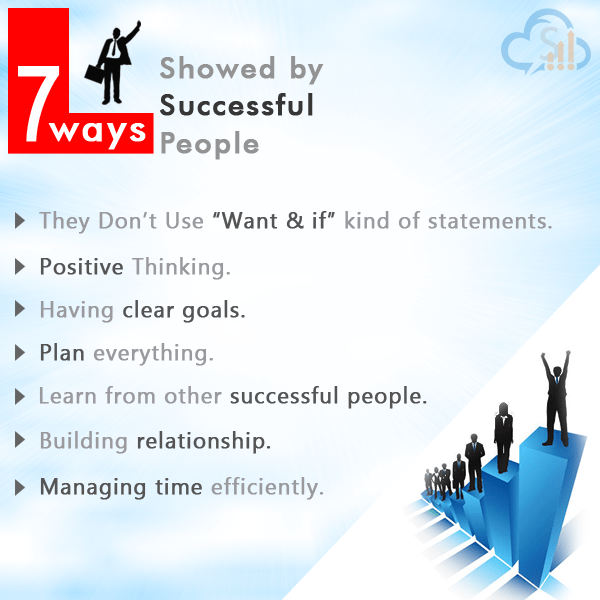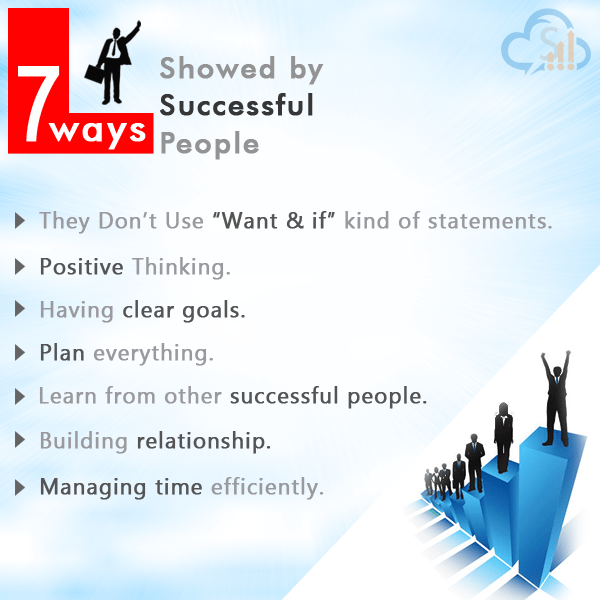 Successful people are role model for everyone. If you want to be successful you should remain calm even under pressure. They don't surround themselves with negative people and always look for opportunities.
Successful people follow these seven practices:
They Don't Use "What If" kind of statements: These are negative statements which only gives worry and stress. Don't spend your time in worrying about the possibilities and spend your precious time in right direction. Successful people are confident and focused about their work. We can perform better by using our strengths. They are always motivated and passionate about their work.
Positive thinking: Positive thinking helps people developing new skills, which can have a compounding effect among happy people who repeat this process. Positive thinking also have various health benefits. People with positive thinking have increased life spans. It builds your skill set. Focus on your strengths and boost your self-confidence. It has positive effect on work. Positive affirmations are also helpful to become positive.
Having clear goals: Successful people take ownership and work towards their targets. Goals give you clear sense of "Yes or No". Goals help you to measure your progress. When you are not clear about your goals your efforts will be waste. Assigning goals means people are given important responsibility to achieve something specific. It increases both performance and productivity of the team.
Plan Everything: Make a list of your resources and how to utilize all. Constraints are obstacles in the way of your goals. Without planning it is like a journey to a destination without a map. You need to understand your potential customers and your competitors. Planning helps you to track goals and achievements. Efficient use of resources is important for every organization. Setting goals helps organization to perform better. You can better utilize your time with good results. Ensure that your staffs are focused on sales activities.
Learn from other successful people: Most successful people surround themselves with positive influences because it helps them to keep focused. Watch and learn what successful people have done to achieve success. They have different ways of doing things to get positive results. Read success stories for motivation. Never say that you know everything. Learning is the lifetime process which will never end. Successful people always learn more and more. When you believe in yourself, you can achieve anything you want.
Building relationships: You can't be completely successful without making better relations with others. Successful people give respect to others by listening to their customers issues and finding best solutions for them. Customer retention is the best way for sales success. Understand your customers well and fulfill their needs to maintain long term relationships.
Managing time efficiently: Highly successful people realize that their time is important and how to utilize it well. They give value to their time and devote it in useful things. They plan their whole week and invest time on things which give results. First focus on important tasks and daily check your to-do list. Successful people use their time efficiently and keep themselves updated about each activity of the organization.