After sales service plays an important role in maintaining good customer relations
Good after sales service builds long term relations among company and its customers. When you are providing better services to your customers it means you are earning their loyalty which helps you to run your business perfectly. Many successful businesses are using Service Management Software to grow loyal customer and creating tale of increasing profits from existing customers.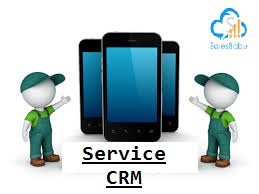 Benefits of Service Management Software:
Track details of Warranties / AMC opt by customer
Increase revenue by AMC and Warranty renewals
Complete complaint management
Enhanced customer satisfaction
Track spare parts consumption
Manage spare parts warranties details
How to manage service tasks?
Service Management Software is designed to manage service process of the organization. With the help of Service Management software you can track all the AMCs pending for renewal. One can track PMS visits. Customer complaints will help you to inform about your product status that where you need to improve and mostly which complaints you are getting from the customer. If you are handling complaints poorly, customers will not come back to you. One can retain customers with good complaints handling and customers will also give you referrals.
Centralizes Scheduling information
Service management software centralizes information and provides real time updates. One can access job sites, customer history and PMS visits. It allows you to organize all the customer details like service history and payment details. It removes your paper work process and streamline your service process.
Meet customer's expectations every time
Instant visibility to parts availability and work order histories improves service levels. It helps you to view expenses, tasks and no. of part consumption. Service departments becomes more smarter now and tracking their service operations with service management software. It simplifies the work order tracking. This software helps you to reduce overhead, scheduling time and increases customer satisfaction.
Removes the challenges and makes your work more easy
When you are not using any system to streamline your business then it can lead to increase in costs and reduces productivity. It is time saving software. Key for successful business is great customer service. It is important to manage clients information database. Service managers can view status of all the service activities. It also helps you to increase service revenue. One can retain customer relations for long time by giving them good customer service. Replace manual methods to improve services.
Manages every aspect of service
Service Management Software is designed to manage all activities of service process. It will also boost your staff's productivity. One can instantly assign activities to the service technicians. You only need to login and can view the details. In a click you can get monthly installation reports, Closed complaints, service calls and more. Customers always want best services from you but if you are unable to provide, they will go elsewhere.