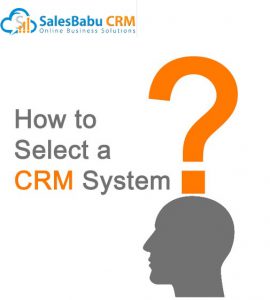 It is a known fact that CRM systems can serve as vital tools for companies of all sizes and industries. The ability to capture, track, and share relevant customer data can bolster revenue, enhance productivity, cut costs, and, if used correctly, improve a customer's relationship with—and perception of—a company. But for all its advantages, CRM implementation and maintenance also call for hefty financial commitments. And while many firms will elect to put a system in place eventually, they shouldn't jump the gun on the issue by acting too quickly.
We are uncovering some strategies for selecting the right CRM system in this article.
Know your processes: The first and for most thing is to know what is required? for what for ?, So you should first evaluate the requirements of your own processes in the organization. CRM is for Sales or CRM is for company? This seems like the same question but it has two different answers, since CRM for Sales is readily available for evaluation in the Market, you may test several softwares depending on the features, you are looking for and select one. But, if you are looking for CRM for company you have to go to a long way. You either talking about industry specific CRM or you are looking for some customize solution.
Involve every relevant department: It is a tendency of a human being that it sometime behave reluctant to each new change. It is important to involve members from every relevant department in the evaluation process. This enables them to provide early input, which, experts agree, promotes early adoption. Companies should get input from marketing, customer service, sales, accounts, management staff  and any other segments of the company that will be using the system. If this step is skipped, members of specific teams might resist using a solution. Talk to them, prepare a detailed report that will reveal what areas need the most immediate attention. With this knowledge, project leaders can focus on solutions and processes that will improve them.
Be mindful of your company's size and industry: There are a number of challenges that enterprises of all sizes should anticipate when developing their platforms. Big companies has more resources and educated people, and are more likely to lean on consulting firms. Small and medium businesses may evolve into bigger entities over time; but, it's hard for them to assess what that evolution is going to look like. As a result, many of these companies choose less sophisticated solutions. Companies should also be conscious of their industry. Today, more CRM vendors are building industry-specific solutions to cater to each market's unique needs. For example, SalesBabu Industry specific CRM is available for Manufacturing, Services, Sales & Distribution, Retail, Pharma, Travel, Education, Real Estate, Call Center, Chemical.
Know your customers' expectations: if a company understands the engagements its customers have with the organization, as well as what type experiences they expect, it can determine which processes to place at the top of its priority list.
Work with the Right Vendor: You should research as much as you can, read reviews, take trials, communicate with customer service team and then you select software meeting all your requirements.
Set reasonable goals and expectations: It is advisable to gradually make a move, since CRM is also a tool not just something over night miracle which can remove bottlenecks of your business.  Granted, there are some reasonable expectations that companies should have for their CRM system. For instance, employees should be able to use it wherever they wish, and they should expect that it will improve their work activity in some way. It should fit with their work style, and customers should be able to get help easily.
Though it's an uncommon situation, it might be the case that a company is forced to reconfigure its entire platform. But this conclusion should be reached logically, following careful consideration.