Turn Complaints to Compliments !
---
Complaint Management Software
Once a customer brought your product, each time he contact you for support you need to log a complaint with ticket number so as to track the complaint till it's resolution up-to customer satisfaction. SalesBabu CRM complaint management software organize the process of complaint management with logging the complaint with ticket number, easy escalation of complaint to skilled forced according to severity and nature of the complain and track the solution. Thus, enhancing efficiency of complaint handling process.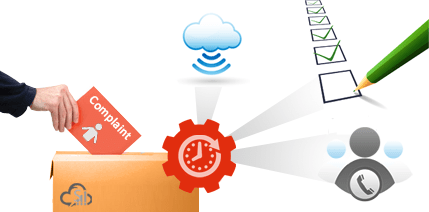 ---
Monitor Service Activities
Monitor complaints for multiple case natures, type of resolutions, SLA, severity, quality and timely escalation in any after sales support process. Complaint management software organizes the process and offer tools to monitor the complaint at every step till its resolution and keep the conversation for future reference.
Visibility of Warranty/AMC
Each product and it's accessories may have different warranties. To manage AMC for those product and is very crucial yet complicated task. SalesBabu CRM complaint management software displays the information in Color Coding, which makes to recognize warranty and AMC very easy.
In SalesBabu CRM complaint management software you may pre-define some case nature to sort the complaint and record resolution for the same for quality monitoring purposes. Also, your support team will be able to easily identify the case nature  and provide timely effective resolution up to customer satisfaction.
Complain Severity/Priority
Within complaint management software you may log and sort the complaint Severity or Priority i.e High, Low or Medium. This help support team concentrating on the high priority task and smoothly resolve all complaints.
Complain Allocation/Escalation
Within complaint management software you may log and sort the complaint Severity or Priority i.e High, Low or Medium. This help support team concentrating on the high priority task and smoothly resolve all complaints.
Use of complaint management software ensures that every complaint activity is handled with a closing comment and what resolution has been given to the problems. The software enables you to pull reports based on products, problems and resolutions with this data you can prepare a knowledge base, which help identify and offer right solution without delay.
Customer complaints and service contacts are an opportunity to show your clients how important they are. If you exceed their expectations they will be loyal customers for years to come. Complaint management software allow entry, tracking, recording and recalling customer contact history to better customer experience and customer complain handling.
Quality Control:
Complaints can be a vital indicator of product quality and potential product recall issues. Quality managers and their teams use complaint management software to access report related to customer complaints, respond to those complaints directly, investigate the complaints within the organization, and analyze how these quality issues can be avoided in the future.
Better Service Assistance To Customers:
By automating the complaint management processes and integrating them into a quality system, you can provide better service to their customers and improve quality processes to mitigate any further customer complaints. Moreover, having a validate customer complaint management software that moves potential incidents rapidly through an investigation and corrective action cycle can be a competitive edge.
SalesBabu Complaint Management System is One For All:
Each industry is different with regards to regulatory affairs, customer base, and manufacturing quality concerns. An electronics manufacturer will have a far shorter timeframe than a drug manufacturer to perfect manufacturing quality and address customer complaints before the product's shelf-life is done. The pharmaceutical or medical device manufacturer may have different regulations with which it must comply, and they could have different consequences if a recall or customer lawsuit were to occur.
SalesBabu Complaint management solutions are highly flexible and integrate with your quality management system. Additionally, no matter your industry, our solutions automate and centralize your compliants intake process, so you're more efficient at handling and correcting customer issues to improve product quality and your brand reputation.